Acacia Lodge No 4512 has celebrated its centenary in truly magnificent style. One of a plethora of lodges formed in the period following on from the Great War, its warrant was issued on 18 December 1922 and the lodge consecrated 13 April 1923 in Liverpool Masonic Hall. The first WM was W G Bucknall. It is one of the two lodges in Liverpool designated as a Hall Stone Lodge, the other being Childwall Lodge No 5235.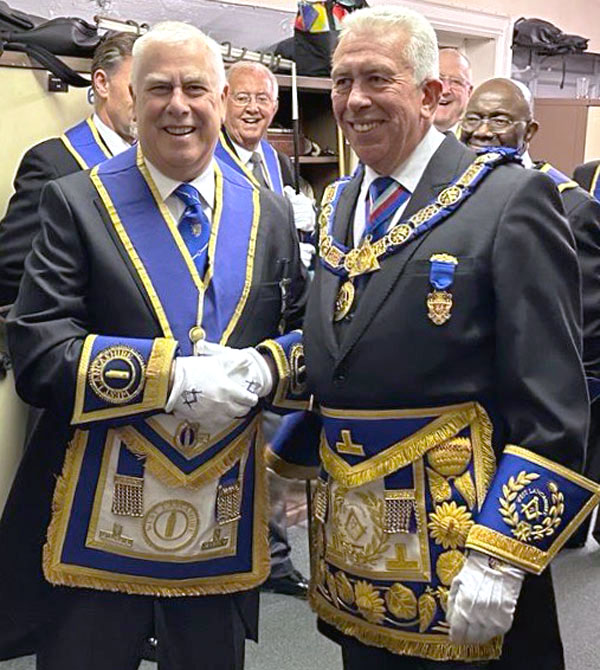 The principal guest for the centenary meeting held in the Roman Suite was the Provincial Grand Master for West Lancashire Mark Matthews, accompanied by his team. The lodge having previously being opened by Acacia Lodge's WM Derek Nuttall, Derek welcomed Mark and his entourage with Derek proffering the gavel of the Lodge which was enthusiastically accepted. Following the salutations, Mark placed his Provincial grand officers in their respective positions thereby opening Provincial Grand Lodge in due form. Provincial Grand Secretary Peter Taylor read the 100th celebration certificate which was next presented by Mark Matthews to the Acacia Lodge WM Derek Nuttall.
The history of the lodge was given and is as follows. In 1923 Mount Etna volcano erupted, Adolf Hitler led a failed coup attempt in Germany, the first issue of Time Magazine was printed and Howard Carter and Lord Carnarvon discovered Tutankhamun's burial chamber. Also in that year, on Friday 13 April 1923 the lodge was consecrated in the name of Acacia Lodge No 4512 on the register of the United Grand Lodge of England. There were 25 founding members, the warrant from Grand Lodge cost £12 17s, and to purchase the lodge collars, jewels and apron was the pricey sum of £94 8s 11d. The joining and initiation fee was £21 and yearly subscription £2 2s.
The first member to be initiated was S A Capstick on 11 May 1923 and it is believed he was related to R Capstick WM in 1923 and J C Capstick WM in 1926, both of whom were founder members. The first meeting of the fund of Benevolence was held on the 19 October 1928, where an urgent appeal was received from a Mrs Slack, widow of Reginald Albert Slack who died 27 October 1923 and who was the first director of ceremonies and a founder member of Acacia Lodge. It was agreed to send £3 3s to help her and her two children, Roy and Leslie. Support continued from Acacia Lodge to Mrs Slack in the form of money and food hampers until 1934, when a letter was received from her to say her circumstances had improved.
From 1923 to November 1948, the subscription remained at £2 2s; it was then increased to £3 12s 6d. Thomas Arthur Smith was initiated on 20 December 1957. His occupation was a printer representative, and Acacia Lodge's longest serving member (62years); he passed away in May 2019. He served in every office, including secretary and treasurer, but did not take the chair as he did not like the fuss. He was however, recognised for his Masonic work by the Provincial Grand Lodge and given the rank of PPAGStdB. For those who knew him he was a lovely, kind and quiet person and is greatly missed by all.
At this point it should be noted that a fire at the Masonic Hall on 27 September 1967 caused much of the building to be destroyed, leaving only the Adams, Roman and Egyptian lodge rooms intact. It also resulted in Acacia Lodge's archives and furniture being destroyed, hence the lack of detail in this history. The master of Acacia at the time of the fire was Glyn Nuttall. It was decided that the lodge was to move, albeit temporarily, to Carlton Masonic Hall, Eberle Street.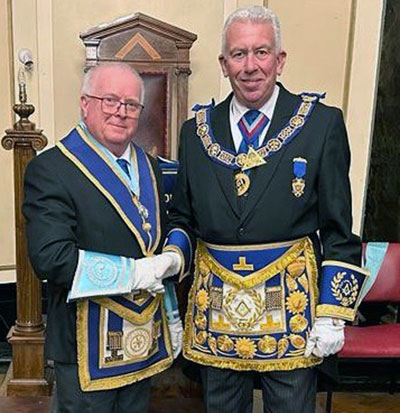 The first meeting Carlton Masonic Hall was held on 18 October 1968, at which a ballot for WM took place, which proved unanimously in favour of Douglas Howland (father of member Peter Howland). At that time the membership was 64, of which 8 were Provincial grand officers. Four meetings were held at the Carlton Masonic Hall and on the 21 February 1969 Acacia Lodge moved back to Hope Street with Douglas Howland (Doug) in the chair. At that meeting James Clarke (Jim) was balloted for and initiated. At a meeting held on 19 February 1971 Thomas Nuttall was elected honorary membership.
A sign of the times at the meeting of 21 March 1975, the then secretary Douglas Howland, read out a letter from the Grand Secretary relating to Roman Catholics with an explanation that Roman Catholics could become Freemasons with the approval of the Bishop via the Parish Priest.
Various letters were received from the Masonic Hall committee, one dated 20 February 1977, stated that the cost of a meal was to increase to £1.55 plus VAT and a further letter in April of the same year gave notice that coffee was to be excluded from the menu to maintain costs with a further increase to £1.84 plus VAT for a meal.
On 22 November 1978 a further letter from the Hall committee stated that if Acacia Lodge did not vacate the hall at the required closing time, then the Lodge would be liable for a £2 charge. Acacia Lodge did have a reputation of being rowdy at the festive board in those days.
At the meeting of Friday 20 April 1979, the WM Charles Redmond announced the passing of Thomas Nuttall and asked the members to stand in silence as a token of esteem and respect to his memory. He was the last of the founder members and had served Masonry for over 60 years and Acacia Lodge for 56 Years.
Acacia Lodge celebrated its 50-year anniversary meeting on Friday 13 April 1973. In the chair was William Griffiths (Bill) who handed over cheques to charity for the sum of £1,300. At the centenary meeting, there were three sons of members whose fathers were at that 50-year meeting, Mike Cove, Derek Nuttall and Peter Howland.
At a regular meeting held on 16 May 1980 William Cropper proposed that Acacia Lodge be removed from Hope Street Masonic Hall and relocate to the Racquets Club on Upper Parliament Street. The proposal was seconded, and the vote was 28 for, 1 against and 1 abstention. On Friday 17 October 1980 the first meeting was held at the Racquets Club with James Clarke in the chair. The membership stood at 47 with an annual subscription of £25 and a joining fee of £35.
In July 1981 Liverpool erupted into full scale rioting, which was to lead to one person dying, 700 arrests and 1,000 policemen injured. On 6 July 1981 rioters burnt down the Racquets Club and once again Acacia Lodge archives and furniture was destroyed. A new home was found courtesy of Mike Kennedy, a member of Acacia Lodge, at his pub, The Nags Head in Netherton, with the assistance of the brewers Whitbread and permission from Provincial Lodge. Mike Kennedy's wife Betty undertook the cooking of the meals from her domestic kitchen which was a truly Herculean task to feed 40 plus members, a task that she carried out to every member's satisfaction. They were truly happy times, however after 4 years and as the lodge members rose Acacia Lodge outgrew the Nags Head and it was decided to move back to Hope Street where we remain today.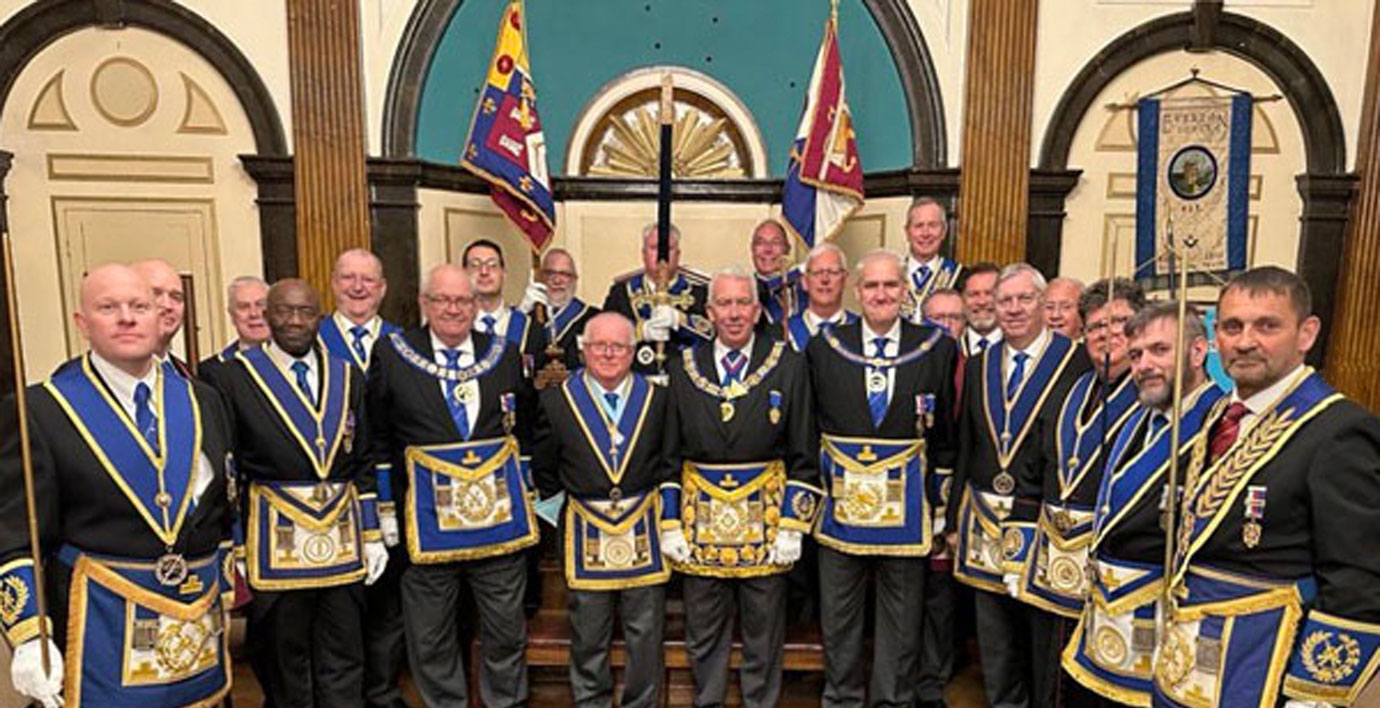 The centenary celebrations cannot pass without mentioning one of the greatest friendships and relationship with Lodge Irvine Newton No 1662. On Friday 16 November 1990, 8 members of Lodge Irvine Newton came to the south of the border and paid a visit to Acacia Lodge on the occasion of the treasurer Garry Cross's installation. It was a random visit, those who attended from Lodge Irvine Newton, Ian Stewart (WM), John Mitchell, Louis Ferguson, James Murphy, Scott Singleton, Dave Scott, Tom McNairn and Stuart Kane. And those members from Acacia Lodge who were present at the meeting and are still members were; Dave Thompson, Frank Parker, Mike Cove, Derek Nuttall, Tony Kennedy and Ray Jones. The following April, Acacia Lodge paid a visit to Lodge Irvine Newton installation 1991. They were made to feel very welcome; the hospitality and generosity was something that will never be forgotten and every year since then (apart from COVID) members have attended each installation and special occasion meetings. From that random meeting, friendships were made that endure today and long may they continue.
Three members of the Lodge Irvine Newton joined Acacia, of which two Robert McBride and Stuart Kane became WM's of Acacia Lodge and honorary membership was confirmed on Robert McBride and Thomas Glencross. Honorary membership of Lodge Irvine Newtown was conferred on members of Acacia Lodge; James Marchbank, Frank Parker and Tony Kennedy. This rendition regarding the history of Acacia Lodge was much appreciated by all in attendance. During the meeting, Provincial Grand Lodge gave a field promotion to Stuart Kayne to the rank of PPJGW from the ProvGM. Stuart was obviously very shocked to receive his preferment, he was not aware of it happening and nobody else in the lodge knew ether, so it was a lovely surprise to him and the brethren.
Rev Canon John Hall, the Provincial Grand Chaplain, rededicated Acacia Lodge, after which Mark closed Provincial Grand Lodge and the Acacia Lodge officers resumed their posts. Derek as WM of Acacia Lodge presented a number of charitable donations on behalf of the brethren which consisted of £1,000 to the Blood Bank Appeal, £1,000 to the Liverpool Sunflower Centre, £1,000 'HourforUs', £500 to SSAFA, £500 to Samaritans and £512 to the BRNENC Foodbank, a total of £4,512, corresponding to the lodge number.
On closure of the Lodge, all went to the adjoining banqueting suite for the festive board where they enjoyed a menu of pate followed by stuffed chicken and vegetables, a dessert trolly, then cheese and biscuits, tea, or coffee. At the festive board the WM Derek Nuttall told how proud he was that four generations of his family had been members of Acacia Lodge, his grandfather, father, himself and now his son. A record of which the family should be deservedly very proud.