Derek Bond, the master of Tyldesley Lodge No 2572, was delighted to install Jonathan Battersby into the chair of King Solomon of the lodge at Brookfield Hall, Westhoughton. Jonathan is possibly the youngest master Mason of Tyldesley Lodge's history ever to quality for the position of WM.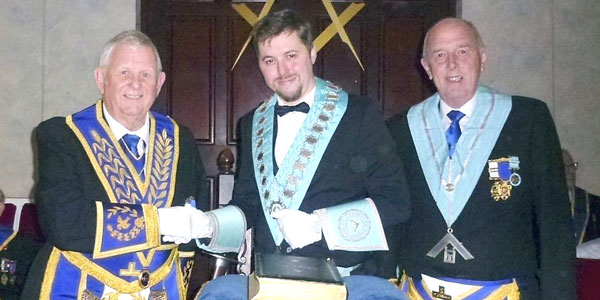 The working tools were presented to their new master by light blue brethren, Carl Dawson, David Peacock and Andrew McVee. Each of the three degrees working tools were delivered in a word-perfect demonstration of ritual and Past Assistant Provincial Grand Master Stewart Seddon, the representative of the Provincial Grand Master Mark Matthews, made special comment of the brethren delivering the tools and described the whole ceremony as magnificent.
Cheques totalling a fantastic £2,500 were presented for the benefit of both local and Masonic charities and Stewart thanked the brethren of the lodge for their generosity and congratulated Derek and the whole team on a splendid installation.
As always, the festival of Saint John was a very enjoyable affair. The toast to the new WM was a very heartfelt salute given by David Hargreaves, who had mentored and looked after Jonathan since he first joined the craft. The emotion in David's voice as he delivered the toast was one of absolute pride and Jonathan's response was equally as emotional.
The Master's Song was sung by Swainson Eckersley and the evening was an enormous success, concluding with the tyler's toast proposed by Barry Hughes. Jonathan's first ceremony is a third degree on 21 November 2023 and all visitors are most welcome.