As with many lodges in the Province, the return to Freemasonry meetings being held after a lengthy period of lockdown, it was a wonderful occasion to witness a special meeting being held within the Ormskirk and Bootle Group with the members of Eureka Lodge No 3763, who meet at the Litherland Masonic Hall.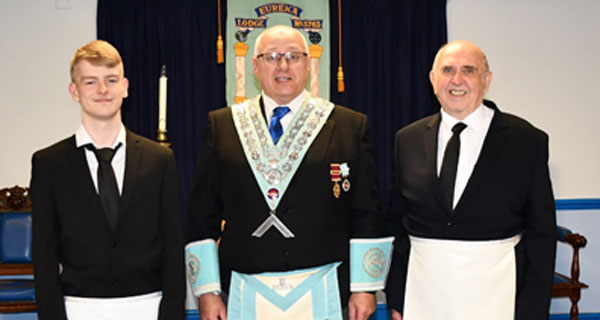 Eureka Lodge's first meeting back was a double first degree, with two new candidates from both spectrums of age, with one of the candidates being a Lewis Mason, Sean Buckley who is only 20 years of age, who's from a military family background, Sean's father Stephen served over 30 years in the Army and his mum, Dawn, is still a serving Warrant Officer in the Army. Sean is currently studying at Chester University and is a third-year student nurse.
Stephen said: "We are both pleased he is able to, as the charge says in the first degree: 'Be respectful in life and useful to mankind', which Freemasonry and nursing will give home both. Freemasonry will provide him with a firm base to pursue his future Masonic path and joining Eureka Lodge has made me a proud father and brother respectively."
Joining Sean in being welcomed into Freemasonry was Joseph (Joe) Butterworth as the other candidate who is 74. Joe has been married to Sheila for 47 years and they have two children and five grandchildren. Before retiring Joe was an accountant and having worked in both public and private sector. Joe said: "Everyone else in the family is in education, both children and my wife had a lifetimes experience in further education. To relax, I'm trying to learn Spanish and I am a big football fan (Liverpool football club in particular), I'm also a regular member of St Mary's Knowsley church".
After a long break, it was impressive to see the members of Eureka Lodge have lost none their lustre, when they initiated both Sean and Joe, in what can only be described as a very excellent ceremony performed by the members of Eureka Lodge.