Two intrepid adventurers braved the chilly morning breeze, with ominous looking clouds shadowing the art-deco frontage of Warrington Masonic Hall, Winmarleigh Street. Kitted up and raring to go, stood John James, Assistant Provincial Grand Master and Peter Lees, a member of Jerusalem Chapter No 32.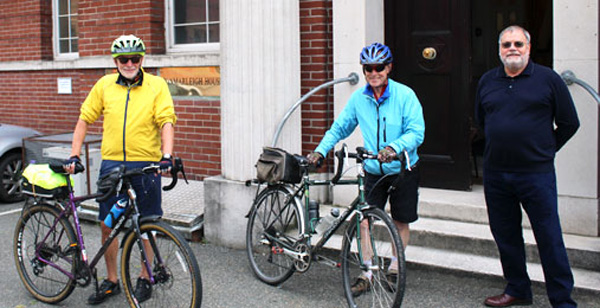 Their plan was to cycle from Warrington Masonic Hall to Blackpool Masonic Hall, a journey of some 60 miles, and then to give their support and take part in the 'Ride the Lights' event, and to raise money for the West Lancashire Freemasons' Charity.
The Ride the Lights festival is an annual event which allows visitors to get a sneak preview of the famous Blackpool illuminations stretching from the South Shore all the way to Bispham, an impressive promenade of illuminations of over six miles, all closed to normal road traffic except bicycles, for one night only.
The journey began snaking through the busy streets of Warrington and onto the Sankey Valley Way. The rain started at Haydock as they negotiated the busy East Lancs Road/M6 junction and continued as they stopped off at Bryn Masonic Hall. Undeterred, they pressed on to Wigan and picked up the Leeds/Liverpool Canal path.
The rain stopped, clouds thinned and they negotiated nearly 15 miles of mud, puddles, shale and flint path with the occasional pot holed tarmac. By the time they reached Cuerden Valley Park, with its thankfully smooth tarmac paths, the sun began to shine and over-jackets were packed away in saddlebags. Reaching Preston and bordering the River Ribble, Avenham Park was the last bit of 'off-road' cycling before picking up the Blackpool Road and battling increasingly strong winds all the way to Lytham.
They had just turned north along the promenade in Lytham when a noise like a pistol shot rang out announcing that the back tyre of John's trusty old bike had suffered a blow out. The tyre wall had been split. Normally this would have meant the end of the ride, but Peter's knowledge and remarkable ingenuity came to the rescue and with the help of a new tube, a piece of cardboard and a few prayers, he managed to complete a temporary repair that they thought would probably only last a few yards, but in the event lasted another 16 miles allowing them to complete the ride. Well done Peter, we suspect he has had secret special forces training but Peter refused to divulge any further details.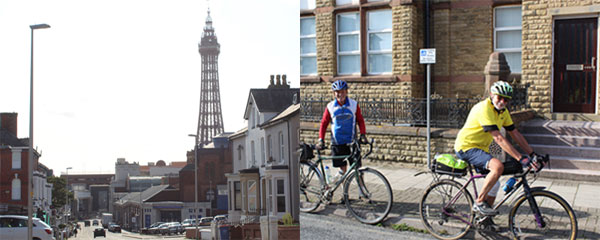 A very impressive six hours after setting off from Warrington, and with the sun beaming down, making it a much warmer occasion, the two ultra-cyclists turned into Adelaide Street, Blackpool, the home of Blackpool Masonic Hall. After well-deserved congratulations on an epic journey completed, John and Peter were pleased, (and not a little relieved), to have completed the trek, and were soon ready, after refreshments, to continue their journey to Yeadon Way, south car park, to join the many other Masons gathered to Ride the Lights.
They were supported and encouraged throughout the day by Peter's wife Sue and his friend John Price in the support car. They provided refreshment and sustenance which were thankfully received and faithfully applied!
All in all, it was a successful, eventful, and above all memorable experience. John would like to thank all those people who encouraged and sponsored him by contributing to his JustGiving page. The current total which is still being collected is believed to be over £3,000 raised a fantastic achievement!