Brian Hargreaves is held in high regard by his fellow brethren and it is perhaps a mark of how well regarded that so many people turned up, in difficult circumstances, to help him celebrate 50 rich and varied years.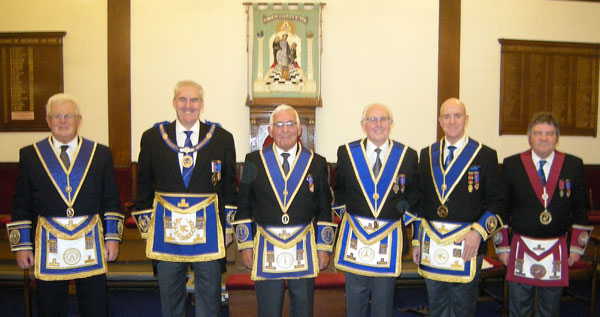 He was born in 1937 to a mother who worked in a weaving shed and father who was a railway worker. His memories of early years are good, and he can recount tales of the Second World War; huddling in an air-raid shelter, the day Walkers Club bowling green was bombed, huge Guy Fawkes bonfires in the roadway at the back of two sets of terraced houses and the town's victory parade.
Brian went to Beaumont Secondary Technical School after 11 plus, and into a world of Gilbert and Sullivan operettas, modelling clubs and rugby league, at which Brian broke his ankle badly and ended up on crutches. To help with this, he took up swimming, eventually becoming a lifeguard and member of the Warrington water polo team. This love of swimming has lasted a lifetime.
In the last year of school, Brian played bowls and tennis. On one occasion, he made fun of a girl tennis player, who whacked him with her tennis racket in reply. Seven years later he married that girl, Judy, and in 2021, they celebrated their diamond wedding anniversary. As Brian says, it is a long time for a whack with a tennis racket.
After school, came an apprenticeship with a local company. Subsequent work there was interesting, from automatic knitting machines to irradiation plant for Harwell and even work on Donald Campbell's land-speed record car. He became a Chartered Engineer, the premium grade of engineering experience.
Brian moved companies to Pilkingtons, and the interesting work continued with glass surface coatings, head-up displays for pilots and early versions of the Sat Nav. Having worked his way up to Technical Manager, he eventually took early retirement in 1997.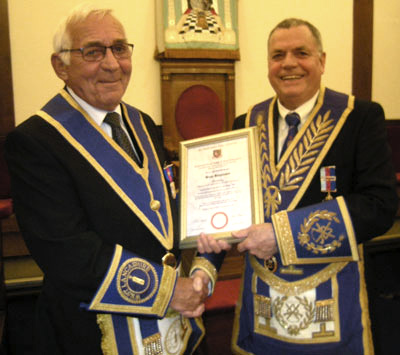 He has had a lifetime love of Warrington Rugby League Club. There are many memories and stories from years of going to the match, both home and away. A founder member of the Primrose Club of supporters, he also belongs to the Life Members Club. Brian and Judy have accompanied the victorious team bus and watched victories at Wembley from the directors' box. They are still season ticket holders and miss very few home games.
Brian was originally interested in Freemasonry as he and Judy supported Lodge of Charity No 2651 social functions. He was proposed into the Craft by his brother-in-law in 1971. There have followed 50 years of a varied Masonic career. There are not many offices that he has not occupied, he has run a lodge of instruction and he has written and produced a book of ritual. He has risen through the Provincial ranks to his present rank of PPJGW. He has also been active both in Mark and Royal Arch Masonry.
After retirement, Brian joined the Warrington Masonic Fellowship, becoming vice-chairman then chairman and being editor and producer of its magazine. He is still an active member.
Perhaps the most interesting things about Brian are the memories he has, too many and varied to recall here but if you meet him, ask him about fellowship annual coach trip outings, the splendid Masons he used to know, and if you get around to talking about the values of Freemasonry, let him tell you about the Mason who used to travel to lodge on his bike, because he couldn't afford the bus fare.
Story by Eric Miller, pictures by Alan Bristow.