Carl Farber of St George's Lodge of Chorley No 7161 has written a personal view of his life under the CORVID-19 pandemic.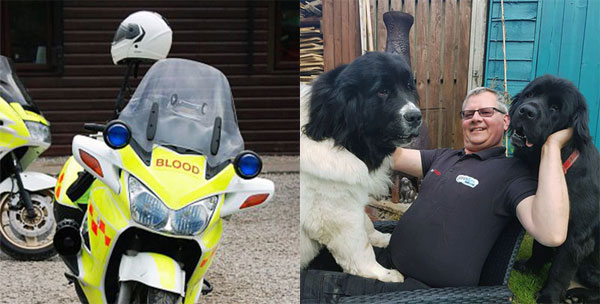 "I'm back on the bikes with Northwest Blood Bikes helping out the hospitals. The Blood Bikes aim to provide a totally free, but professional, voluntary service, out of normal working hours for the transportation of urgent and emergency items. These items include blood, platelets, samples, donor breast milk, patient notes, theatre equipment; in fact, anything that can be carried by motorcycle, solely for the benefit of the publicly funded emergency services and the patients being treated by them, within the NHS hospitals – a vital service during these difficult times.
My wife Rachael and I also volunteer for a local charity that helps homeless teenagers and currently have one living at our house. We also volunteer for Newfoundland Rescue, assisting with dogs that need a new home or treatment. We have agreed to sponsor a dog after a local owner has fallen on hard times with the current crisis!
We are also shopping and looking after the well-being of my dad, who is still at home but suffering the effects of dementia and Alzheimer's and Rachael's mother who is 82 and almost blind!
So yes… I'm busy, I'm trying to help, and God knows I could do with a few large G and Ts right now!