It is rare to see a word-perfect ritual of Installation performed. But, after attending the installation of Donald (Don) Fraser into the chair of Eureka Lodge No 3763, it was a ceremony with ritual as close to perfect as makes little difference.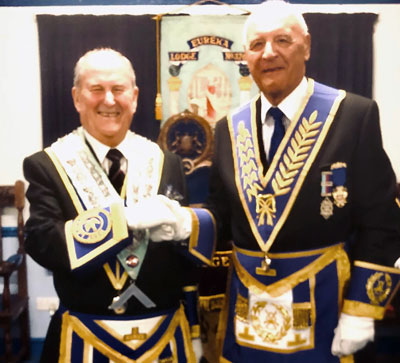 The ceremony was witnessed by Stephen Kayne representing the Provincial Grand Master Mark Matthews and was accompanied by two grand officers, Les Moore and Graham Chambers the Chairman of the Ormskirk and Bootle Group. Also in attendance were two acting Provincial grand officers Philip Wardle and John Lennon.
The evening opened with the solemnity of the outgoing master David Lyon thanking Stephen and his colleagues for attending. He acknowledged Malcolm Sandywell as the highest ranked Provincial grand officer present and thanked the lodge brethren for their support given to him during his two years in office. Don was then installed by the outgoing master David Lyon who was aided by his director of ceremonies Stephen Bousfield.
Indeed, the ceremony was so impressive that Stephen chose to congratulate the brethren both in the lodge and later at the festive board. Stephen was particularly impressed with the presentations of the working tools; master Mason's tools by John Boyd, the fellow craft's tools by Joseph Butterworth and the entered apprentice tools by Andrew Glover, which were not only word perfect but were phrased with inflection and emotion such that they were all congratulated.
The address to the deacons was expertly presented by Stephen Oliver, whilst Malcolm Sandywell gave a word-perfect address to the wardens. This was followed by another outstanding address to the new master by Graham Chambers. Don Fraser than thanked Thomas Grimes of Westhoughton Lodge No 4215 for standing in as senior warden for the ceremony at extremely short notice.
Substantial charitable contributions were presented to Stephen Kayne; with £250 for Bradbury Fields which provides help for adults with sight impairment, £250 for Safe Places who provide foster care for abused families, £250 for the head and neck cancer research charity at the Walton Centre, £250 for Ward 33, the stroke unit at Aintree University Hospital, £150 to Christ Church Bootle Foodbank and £100 to Litherland Masonic Hall, adding up to a grand total of £1,250.
The secret of such an accomplished ritual performance was revealed at the festive board by, do it again Don. He told the assembled brethren that their secret was that Eureka Lodge hold weekly instruction meetings to help perfect their ritual and to promote the great camaraderie that was so obviously apparent to all present.
These regular and well attended rehearsals are a great example that would benefit many other lodges. Don's response was to a particularly emotional speech made to his health by Stephen Bousfield, who had obviously thrived under Don's instruction. The festive board and evening came to a close with a fine rendition of the Master's Song given by Phil Wardle, who was again word perfect and surprisingly in tune!