David Bradbury, a past master of Duke of Connaught Lodge No 2919 had, for a number of years, wondered why particularly at installations, the DC has had to reach for a chair to enable the master elect to kneel on for the prayer.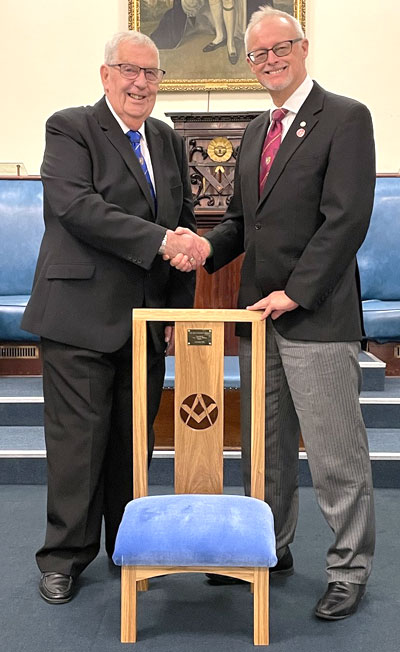 This had become somewhat of a pet dislike of his so he decided that maybe he could do something about it. So, in consultation with the Southport Group Chairman Phil Stock, he came up with the idea of providing a kneeling stool for the general use of all the lodges and chapters and other Masonic Orders within the group.
David's nephew, who happens to be a cabinet maker of some repute, was commissioned by David to make a kneeling stool. The result was a magnificent and unique stool which made its debut at the Duke of Connaught Lodge installation.
David has since gifted the stool for the general use of the Southport Group and group chairman Phil Stock had no hesitation in gratefully receiving such a tremendous gift. May it remain in the group temples for the use of any of the Masonic Orders that may require to use it for many a year to come, as true testament to David's fine generosity and his nephew's masterly skills