As a daytime lodge, De Bon Cuer Lodge No 6984 offers something different for its members and visitors, as most other lodges in the Chorley and Leyland Group meet in the evenings. The daytime meetings are a perfect choice for those who have retired or work shifts, and their new master is hopeful that they will be able to increase members during his year.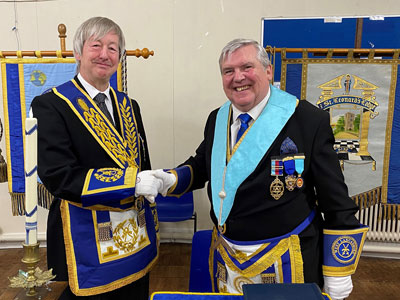 Having only joined De Bon Cuer Lodge at their last installation in 2022, Robert Norris PPGSwdB, stepped in to take the chair of King Solomon and support his new lodge. Robert joined De Bon Cuer Lodge with a fellow brother John Forshaw, who took office as senior warden during the installation and looks forward to being installed as master next year by Robert.
The installation was held at Halls4All at St Ambrose Church, Leyland with a total of 18 visitors, (including 4 brethren from East Lancashire), and 10 lodge members present. Past Assistant Grand Director of Ceremonies Stephen Gregory was the representative of the Provincial Grand Master Mark Matthews. Stephen was accompanied by Provincial Grand Mentor Stewart Cranage and Colin Preston, the group treasurer.
With Robert Norris having been installed as master of a previous lodge, the ceremony was slightly different with no tools being presented. Instead, there was a unique presentation of an appreciation of the working tools by the lodge DC, Bill Briggs, which was presented to St Leonard's Lodge No 3132, by American brethren who visited the lodge towards the end of the war. St Leonard's Lodge amalgamated with De Bon Cuer Lodge in 2013.
Bill Briggs also gave the address to the master, with Edward Coar giving the address to the wardens. As the representative, Stephen rose and presented the address to the brethren of De Bon Cuer Lodge before the installation was completed.
On closing the lodge, Robert Norris passed Stephen Gregory an envelope containing a list of cheques from the lodge, which was gratefully received. In total £1,148 was donated by the brethren of the lodge, which was split between St Catherine's Hospice, West Lancashire Freemasons' Charity, De Bon Cuer widows, St Gerard's FC and The Rainbow Hub.
The festive board was a first for the lodge, as Halls4All was a new location for them. A buffet was requested by the lodge members for the installation which included a large cake for their new master. Everyone had an enjoyable afternoon, and the lodge looks forward to welcoming new and joining members to its daytime lodge.