Brethren of Croxteth United Services Lodge No 786 and Adelphi Lodge No 6819 were well met for the occasion of the ceremony of passing Matthew Brook of Adelphi Lodge at the Artists Club, Liverpool.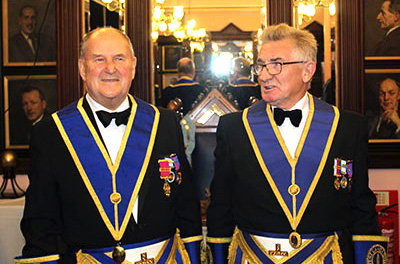 As Adelphi Lodge only meet four times a year, and following the period of lockdown, a backlog of work had built up, so Adelphi Lodge director of ceremonies Paul Dooley met with immediate past master of Croxteth United Services Lodge Joe Williams to discuss if they would be willing to assist. The brethren of Croxteth United Services Lodge very kindly agreed to help out and hold the second degree ceremony.
Brethren of both lodges were keen to get involved, with Adelphi brethren John Irwin and Paul Shirley standing in as junior and senior deacon respectively.
The lodge was opened in fine form by Don Fraser, assisted by his senior warden Roy Carey and junior warden John Walker. Candidate Matthew was skilfully conducted around the lodge room by Paul Shirley and duly passed to the second degree.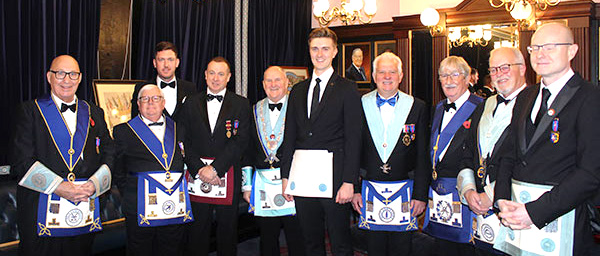 Jim Peel gave an oration of the long version of the working tools of a fellow craft Freemason; Don Fraser remarking that it was a treat to hear that version so ably delivered and a privilege for Matthew and the assembled brethren.
On Matthew's return to the lodge, Paul Dooley gave an excellent explanation of the second degree tracing board. With the ceremony concluded the lodge was properly closed and the brethren retired to the fine dining room of the Artists Club.
Don Fraser thanked all of the guests and commented that it was a delight to see so many in attendance. In response, the guests made fine use of the Croxteth Lodge firing glasses to great effect, enjoying them so much that there was talk of acquiring their own for use at their festive boards.
As all good things must eventually come to an end, the tyler's toast was indeed the last and the brethren of both lodges bid their farewells and best wishes.