Brethren of Woolton Lodge of Unity No 1086 meeting at Woolton Golf Club which incorporates Walton Lodge No 1086, Lodge of Prudence No 2114, Allerton Lodge No 6653 and Warbreck Lodge No 6976 and many guests made it a special occasion for Dr David Roger Withey to celebrate his 50 years as a Freemason.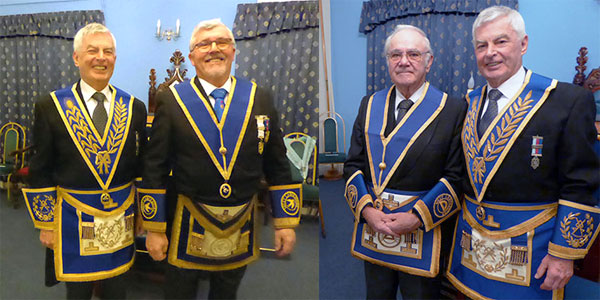 After the lodge had been opened to the third degree, Assistant to the Provincial Grand Director of Ceremonies David Boyes announced that Assistant Provincial Grand Master Andrew Whittle stood outside the lodge and demanded admission. Andrew was accompanied by other grand and Provincial grand officers and acting Provincial grand officers.
The WM Norman Pollock welcomed Andrew and offered him the gavel of the lodge which was eagerly accepted so the celebrations could commence. Andrew proceeded to outline David's notable Masonic career and his highly impressive work experience, along with how he has balanced them with and his family life. Andrew's presentation can be viewed in full by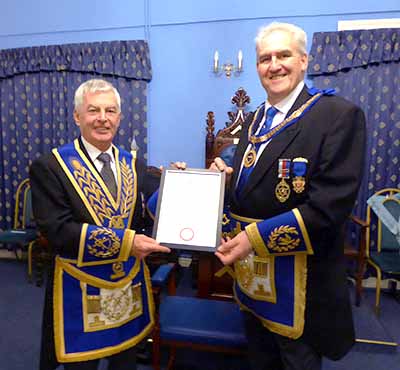 At the end of the ceremony, grand and acting Provincial grand officers retired, quickly followed by the rest of the brethren who made their way to the dining room where a very enjoyable banquet was enjoyed by all. In response to the toast to his health Andrew said it was not a night for him to make long speeches but wanted to thank the group publicity officer Colin Roberts and the webmaster Mike Daley, who will become master elect of the lodge.
Andrew also expressed thanks to Alan Riley and the team from the Provincial charity's office, along with a very warm welcome to a Mason from Ireland; Daniel Davidson of Lightship Lodge No 386, meeting in Ballywalter Masonic Hall, Northern Ireland, a Freemason currently working close by who had a free evening and wished to visit a lodge – he couldn't have picked a better night.
The toast to David Withey was proposed by another longstanding friend Colin Rowling, who said it was a pleasure and a privilege to propose the toast to someone who was a consummate ducker and diver but who had been so creative both in his Masonic career and education career; his hard work within Knowsley for the improvement of the schools and opportunities for the pupils had been greatly appreciated as too was his work for the West Lancashire Freemasons' Charity.
Present for the celebrations was another of David's long standing friends Keith Lewis; the pair had known each other for 50 years.
David responded to the toast by elaborating on Colin's remarks and regaling on how he first become aware of Masonry and the pathway he had taken. At the end of the evening David was presented with a bottle of his favourite tipple which he said he would share with his wife Lin to whom he would be taking home some flowers. Flowers were also presented to Andrew Whittle for his wife.
The tyler's toast brought the evening to a close and the celebrations had been enjoyed by all present not least of all David Withey.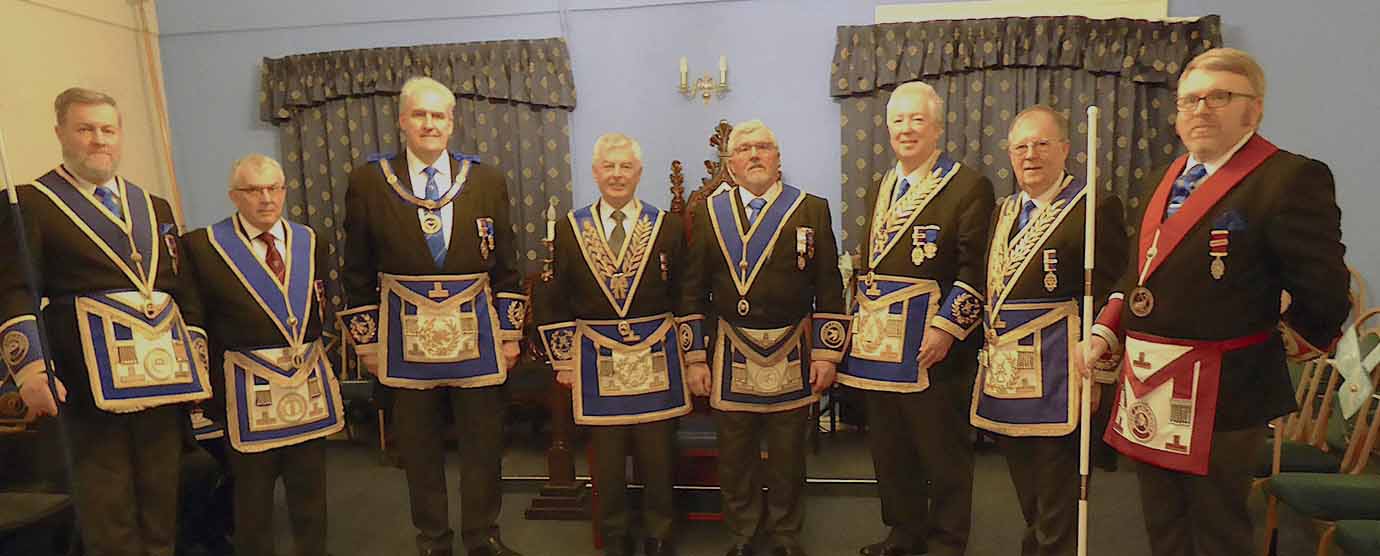 Story and pictures by Colin Roberts.