On a very fine day, a coach arrived outside Cleveleys Masonic Hall to take a group of the North Fylde widows on a day out to the famous Southport Flower Show.

The day out was organised by John Cross the North Fylde Group Chairman and Arthur Cartain the North Fylde Group Almoner and the funding for the fantastic trip came from the West Lancashire Freemasons' Charity, Broken Column Fund.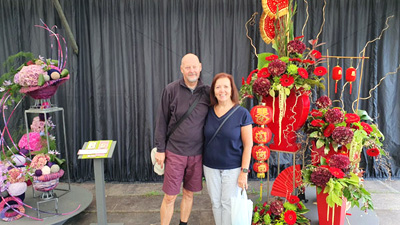 When the group arrived at the show, they were treated to the numerous tents filled with frankly fabulous flower displays; huge vegetables, display gardens and the carnivorous pitcher plants.
For those who were not born with green fingers, the show offered many other distractions. There were tents with celebrity chefs like John Torode and Phil Vickery. There was also a theatre tent, hosted by Granada TV's Paul Crone, with TV stars for all ages from Mr Tumble, the Garden Ninja Lee Burkhill, Countdowns Rachel Riley and Strictly's Pasha Kovalev.
Outside there were many tents selling flowers, plants and gardening tools. There were other tents tempting the visitors with many food options, from pies and pasties to cheese, pickles and tachos. In an outdoor display arena visitors witnessed dogs jumping through fiery hoops to choirs and bands.
All in all, it was a blooming good day out that was enjoyed by all the ladies, who arrived home well fed, well-educated and well entertained.