For a long serving Freemason such as Gary Neal of Thurston Lodge No 2525 on his celebration of his 50th year to the day on 1 September, one would have thought that there was nothing that could occur which would surprise him!  Yet the Provincial Grand Master Tony Harrison managed to do just that by standing in at the last minute for Assistant Provincial Grand Master Keith Kemp who unfortunately tested positive for COVID.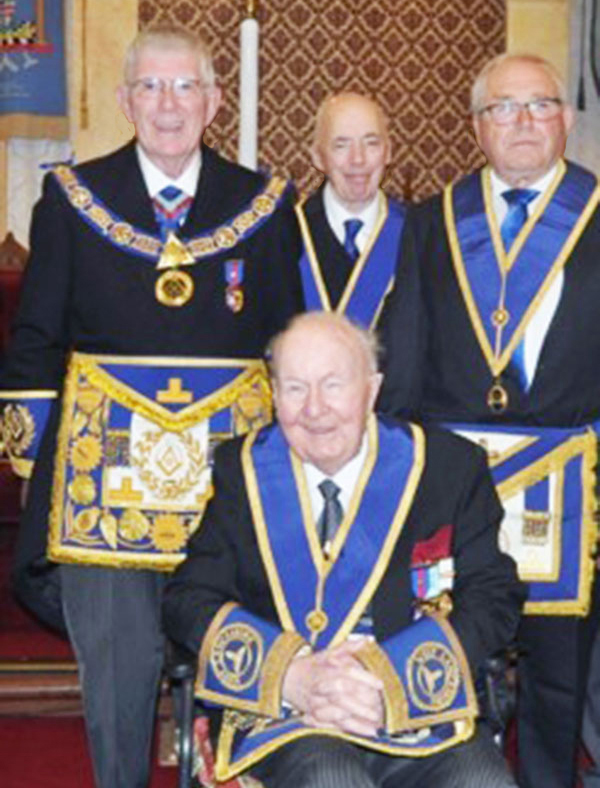 We all wished Keith a speedy recovery and, as Tony was able to stay hidden from Gary until the last moment, the sheer joy that Gary felt, was there for all to see. He never stopped smiling for the rest of the evening.
As Gary put it: "This is your life – Gary Graham Neal", began with his theme music as he was placed in front of Tony Harrison. I am sure everyone at that point had a smile to match Gary's, as we all heard 'Ernie – The Fastest Milkman in the West' being played, being a reference to his occupation for many a year.
On 1 September 1971 Gary Neal began to take his first steps into Freemasonry and 57 lodge members and friends in Masonry gathered to make the celebration a very special one. Tony explained: "To be a member of any organisation for 50 years was a remarkable achievement and it was unlikely that many of us will ever reach such a milestone."
Gary was born in 1936 in Dalton-in-Furness where he attended Dowdales Secondary Modern School and on leaving became a time served plumber with his father until he started his National Military Service, ending up in Carlisle Castle. He was medically discharged after six months and as Gary put it: "I don't know how I got through my first medical as I had a bit of a 'wonky' eye!"
After his discharge, Gary left plumbing behind and became a dairyman, working his round in Ulverston and Swarthmoor. He became chairman of the National Dairyman's Association, Furness branch for 10 years. Perhaps it was his care of his customers and his close friendship with Neil Benson that prompted Neil to suggest that Gary would make a good Mason.
In the early years there had been two boxing tournaments organised by the dairymen to raise funds for a scanner. Eventually the dairymen decided that they no longer wished to continue with the tournaments and it was at this stage that Gary suggested that there could be a Masonic Boxing Tournament instead. This came to fruition with Gary as the chairman of what we now recognise as the annual Masonic Boxing Tournament which takes place each winter at the Cumbria Grand.
Thurston Lodge met initially in Coniston but moved from a building full of character to Ulverston in September 1994. His proposer and seconder were Ken Benson and Jack Dent. Neil Benson, Ken's son is still a member of the lodge even though he has moved away to Cheshire and attends whenever he can. Gary was obviously delighted to see him, as Neil too had celebrated his 50 years in Freemasonry in 2020 and it was fitting they both received their certificates and lapel badges from Furness and South Lakeland Group Chairman Peter Scholfield.

Many stories were remembered and shared on the evening between the celebrants They treated those in attendance to wonderful memories as stewards in the Coniston Hotel, eating in the 'back room'; their images of certain people wearing the diver's helmet and boots was obviously a sight to behold!
Gary has worked his way through the lodge positions and became master in 1989.  He has always set himself high standards which have been reflected in the quality of his floor work in the lodge over many years. No wonder he has the respect of every Freemason in the Furness and South Lakeland Group.
When Ken Benson asked his son Neil whether Gary would make a good Freemason, Neil replied: "I thought he would make an ideal candidate and over the years my thoughts have proved correct." Gary Neal has always put his heart and soul into his Masonic roles and has been, and will continue to be, a true representation of everything good that a Freemason stands for.