A jubilee celebration is a wonderful occasion. It's a chance to hear about the life and achievements of a well-known and respected brother on his attainment of 50 years of service in 2021.  Learning a little more about a brother with whom we have shared many happy moments, is a real treat, and it is a big event for the celebrant.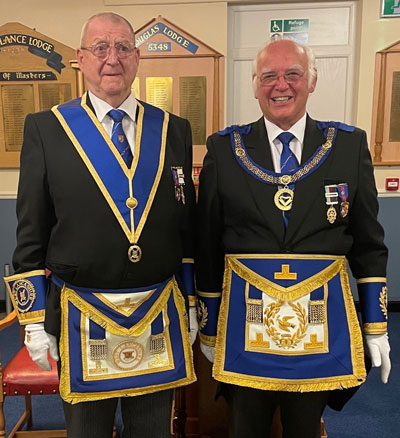 In this instance, the celebrant was Alfred Dickinson, known in the Wigan Group, and much further afield, as 'big Fred'. Bryn Lodge No 6553 were proud to host the celebration to commemorate the outstanding contribution to Masonry of Fred who was initiated 50 years ago. Assistant Provincial Grand Master David Ogden was delighted to attend the meeting at Bryn Masonic Hall to celebrate with Fred, having known him for all of those 50 years and being a member of the same lodge.
The business of the lodge being completed, the usual protocols were followed and David took the chair to conduct proceedings. Prior to commencing his presentation, David paid a tribute to Margaret, Fred's wife, who sadly passed away during 2021. She was a great supporter of Fred, the Masonic hall and Freemasonry in general, and is sadly missed by everyone.
Fred attended Ashton Grammar School in 1958 after primary school at 'Jaggers', or Richard Evans in Haydock to give it its proper name. The headmaster at Ashton Grammar was Kenneth Alan who was a member of Bryn Lodge and a highly respected gentleman and brother. A keen sportsman, in the lower fifth and upper sixth, Fred represented the school at rugby league and athletics. After leaving school he went to work at ICI in Widnes, at the Victoria Research Works, on the chemical analysis of experimental small scale production process for three years. Fred then moved to Pilkington Glass R & D department at Watson Street in St Helens to work on glass flow technology for about two years up to the strike. This was a terrible time in the St Helens area, and it put families and friends at loggerheads, and almost destroyed the St Helens economy. Consequently, the research programme Fred was working on was cancelled and he found yourself out of work. But only for two days. In those two days Fred went out banging on doors until he eventually found work at W Morgan Bryn Ltd, locally known as 'Pop Morgans'. Fred worked on the production and delivery, and during his two years at Morgans, also passed his HGV Licence.
At the age of 25 Fred joined the Lancashire Constabulary and started working the streets of St Helens in early 1973. In 1974 government reforms of counties took place and now in Merseyside Police, Fred was moved to Newton-le-Willows, and soon after to Haydock, as a bobby on a bike. As David Ogden, at the time, had a shop next door to the police station, he could remember seeing this towering giant getting on his bike to patrol the street of Haydock. With his helmet on Fred seemed to be about seven feet tall, quite an imposing figure. David could remember a lady friend asking if he would ask the tall bobby to have a word with her sons who she was having trouble with, and could remember the distress she was in. Fred did visit her house, which was across the road from the police station, and spent some considerable time with them. David had no idea what was said, but what he did know was that those kids grew up to be a credit to their family and themselves.

From1980 to 1994, Fred served as a firearms officer, was involved in the Toxteth riots and saw service in the Liverpool Special Branch Ports unit, the firearms department, Special Branch, and secondment to the National Joint Intelligence Unit at Scotland Yard. In 1994 Fred returned to St Helens and the hallowed halls of the custody office, were he had an absolute ball, until retiring in April 2002.
During a busy working career, Fred's two children, Lesley and Jennifer, were growing up with keen interest in sport and outdoor activities, such as the boys brigade and athletics. He soon became involved with coaching at Pilkington Recs and St Helens Athletic Club, and after three years qualified as a sprint coach and took part in Regional Athletics competitions around the north of England. All this was of course whilst still employed in the police force. Son Lesley moved to France and Jennifer, after time in the forces, lives local, and many remember Fred's granddaughter Beth, who has looked after the brethren on many occasions, as a waitress here at Bryn festive boards.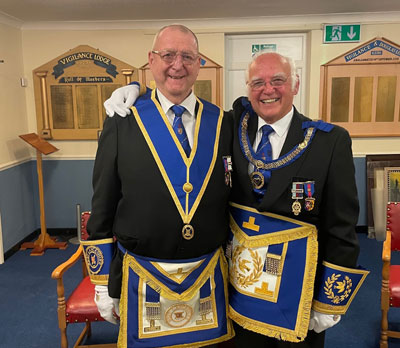 On retirement Fred got involved in Newton Gardening Association, and soon became treasurer, a position held for about 10 years, and only retired after 16 years involvement. Whilst involved with the gardening association, Fred and his dear wife Margaret organised many coach trips to gardens, halls, and holidays, creating interest, and at the same time raising money for local charities. Fred was also on the committee of the St Helens Branch of NARPO – the retired police officers association. Eventually being appointed chairman for four years. Involvement with NARPO lasted 18 years, before retiring, but he is still involved in sending Christmas cards and sympathy cards to a membership of over 500.
In Freemasonry, Fred was just 20 years old when he discovered that his father had joined freemasonry, in fact in November 1968 when he was initiated into Bryn Lodge, proposed by David's father. Sadly, his father's Masonic career did not last very long, as he died in 1970. In November 1971 Fred was initiated into Bryn Lodge passed in December 1971 and raised in May 1972. Work at the time quite rightly took priority, and although Fred maintained his membership, attendance was difficult, only managing a couple of visits per year. He progressed through the ranks of steward to IG but felt he could not commit fully, due to your work commitments and so stepped off the ladder, with a pledge that on retirement he would return and progress through all the offices.
On retirement he returned to the stewards' bench, in 2002. It took a further 10 years before being installed as WM of Bryn Lodge. A total of 41 years membership to attain the chair must be a record. Prior to becoming WM, he was treasurer of Bryn Lodge social account. In 2015 Fred was elected lodge treasurer, a position still held. Membership in the Royal Arch came in 2014 when he was exalted into Ashton Trinity Chapter No 8821, and in 2017 was made an affiliated member of the Caledonian Lodge of Uganda No 1389, meeting in Edinburgh.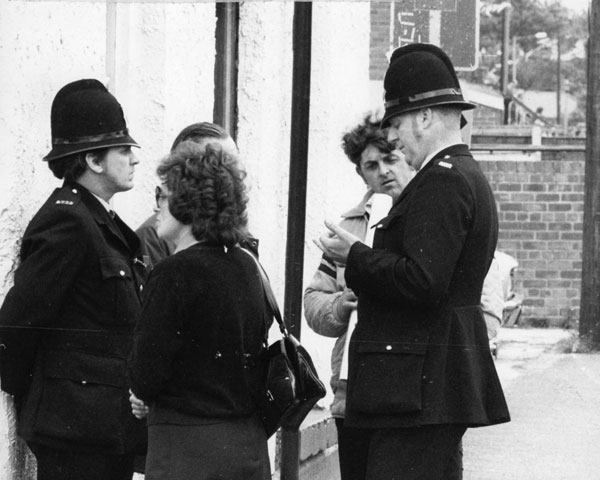 In Province, Fred's appointment to the acting rank of Provincial Assistant Grand Pursuivant in 2017 was a massive milestone in his Masonic experience. What followed is recorded in the tyler's books throughout the province, from Barrow to Ulverston, Lancaster, Liverpool, St Helens, his own group at Wigan and others, as Fred supported the Provincial Grand Master, his assistants and the Provincial team throughout the Province. David concluded his presentation by saying that Fred was and is a credit to Bryn Lodge, the Wigan Group and the Province and Freemasonry in general, and he should be very proud of his contribution and support.
David then invited Geoffrey Porter to read out the certificate from the Provincial Grand Master which he subsequently presented to Fred. At the end of the proceedings, David invited Fred to retire with him after the first rising and they joined together in saluting the WM as they left the lodge.
Needless to say, a lively and enjoyable festive board followed the formal lodge proceedings, with a special menu and fine wines chosen by Fred himself. Phil Hughes was both delighted and honoured to propose the toast to his friend. Phil pointed out that everyone knew big Fred, who seemed to be omnipresent at the Masonic hall, attending and supporting both meetings and social events, and he was so well liked and respected. Fred responded with emotion. Lodge member Darren Murphy stepped in to present Fred with an impressive commemorative engraved gold pocket watch. Finally, John Tabern, on behalf of the lodge, was pleased to present David with a bouquet of flowers. All in all, it was a wonderful and joyous event, celebrating a wonderful man and dedicated Freemason.