The new and young Masons club for the Chorley and Leyland Group, The Corinthian Club, has been very active over the past 18 months of enforced lockdown and suspension of Masonic meetings. The committee has presented a number of talks from speakers in all walks of life in our fraternity.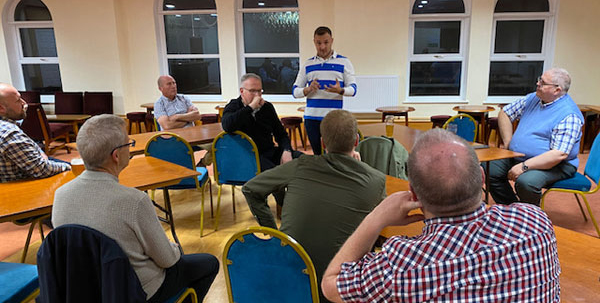 An ex-Metropolitan Police Inspector, a curator of Roslyn Chapel and the Grand Master of Women's Freemasonry are just some of the guests who have informed and entertained the club's members. However, as Masonic activity returns to normal, it was only fitting that the club should centre its first live, in person meeting with a speaker who has a very special story to tell.
Chorley Masonic Hall was the venue where a small but enthusiastic number of the club's members were joined by Assistant Provincial Grand Master Peter Lockett to listen to Adam Eeles, a member of Old Masonians West Lancashire Lodge No 7702, speak very openly about how Freemasonry has helped him through the most testing of times.
Adam summarised his talk for us: "My name is Adam Eeles and I am running the London Marathon in October 2021 for the West Lancashire Festival. Having a difficult two years resulting from the knowledge that my wife would not be able to conceive a child, to gaining some hope through fertility treatment, to moving onto losing my business and falling on financial hard times struggling to pay the bills.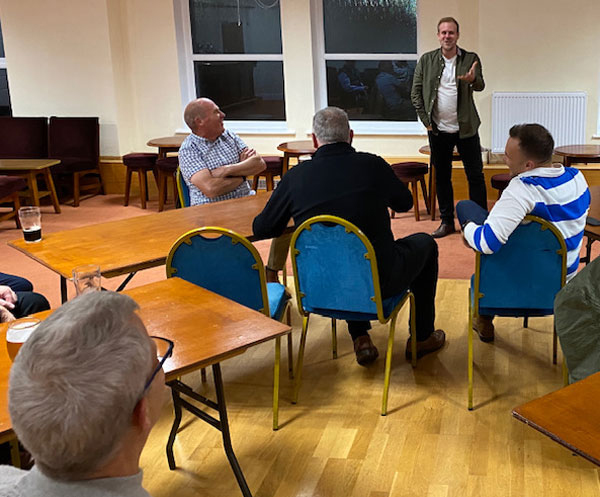 The years have been hard but there is light at the end of the tunnel and after help from MCF and my lodge, I am back on my feet and have just celebrated the first birthday of my son Jack (a future Mason). A strange few years with highs and lows!"
Adam's wish to repay the Masonic Charitable Foundation for the support they provided was the spur to enter the London Marathon and whilst due to circumstances beyond his control, that run is unable to take place, Adam has secured a place in the Manchester Marathon to ensure the fund-raising pledges and hard work in training do not go to waste.
It is fair to say that Adam's story was an emotional experience for all who attended. Peter Locket summed up the experience: "I was inspired to hear Adam speak. He spoke right from the heart, he opened up and described some very private thoughts, experiences and emotions which he and his wife had gone through and he spoke with gratitude and appreciation of the support received from the MCF and the way in which his lodge had looked after both him and his family in a time of absolute crisis.
As he said, but for the lodge and the MCF, this young family could have been devastated. It took great courage to speak so openly about their battles, many would not have been able to do this, and would have been embarrassed and uncomfortable. Many families will go through problems on their journey in life, we, as caring Masons need to be looking out for the signs and to follow this wonderful example of courage and resilience. A lesson to us all.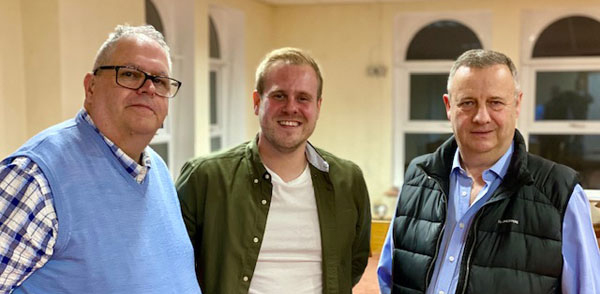 Adam, as a result of the support Freemasonry gave, has become totally dedicated to the Order and is continuing to plan and run in marathons to support the MCF who were there when needed and stood by him. A most moving and wonderful insight. It was a privilege to have been at the Corinthian Club and heard this moving account."
President of the Corinthian Club and Provincial Grand Membership Officer Neil Ward, also commented: "It was good to meet some of the members in person at last. Adam gave us a very personal and inspiring talk about his life and his work for the MCF. I'm sure everyone present took something away from the evening"
More information on Adam's story and his fundraiser can be found on his JustGiving page by clicking here.
It's safe to say that the Corinthian Club have continued in the same manner with yet another fine and inspiring guest speaker. The club's next event is a Zoom presentation as they welcome back Mike Neville, published author of Crime and the Craft, who will speak about Masons and the Evolution of Forensic Science on Friday 1 October. For details, see the clubs Team App page by clicking here.