Past Provincial Grand Scribe Nehemiah Allan Scott is celebrating his 50 years in Royal Arch Masonry as a member of Earl of Latham Chapter No 730.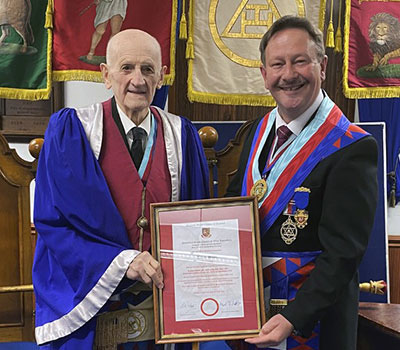 Allan joined Freemasonry early at the age of 29 and was initiated into Carnarvon Lodge No 2376 with his dad, three uncles and two cousins also as members. Allan joined Leyland Chapter No 4249 just eight years later and became first principal in 1986. Sadly in 2018 Leyland Chapter closed and Allan became a joining member of Earl of Latham Chapter.
At 86 years of age, and since joining Earl of Latham Chapter in 2018, Allan is on his way to being first principal in October 2023, having made his way through the necessary chairs to get into this position again for his new chapter. There are certainly no signs of Allan slowing down anytime soon and he is always impressive to watch.
Anyone who knows Allan will know how superb he is at ritual and he continues to mentor and encourage newer Masons, showing them how it's done whenever he is called upon to deliver any ritual. His experience of ritual in both Craft and Royal Arch is highlighted by his long-standing role as director of ceremonies in Craft for eight years and director of ceremonies in his chapter for nine years.
Allan continues to be an example of a good Freemason, as well as a good citizen, and upon receiving his 50 years celebration certificate, Allan announced that he was donating £1,000 to the chapter, with the request that it be donated to the Euxton Parish Church Roof Repair Appeal Fund.
To present Allan with his half a century of membership of the Royal Arch certificate, Assistant to the Provincial Grand Principals Paul Hesketh was in attendance with group treasurer Colin Preston, who read out the certificate aloud before it was presented to him.
Accompanying Paul was the Provincial Grand Director of Ceremonies David Thomas who conducted the evening perfectly and made sure everything ran smoothly. Also in attendance and supporting proceedings was Provincial Grand Steward Kevin Byrne.
A total of 45 companions attended the celebration with two brethren who are not members of Royal Arch joining a lively festive board. It was clear that there were lots of visitors who had come to celebrate with Allan, with 10 members of his Craft lodge, Carnarvon Lodge, joining in the great conversations, food and admiration for such a well-respected gentleman.
The night ended with everyone in high spirits and talk of attending Allan's 60 years in Craft celebration in 2025.