Members of Astley and Ellesmere Lodge No 730 assembled at Chorley Masonic Hall to celebrate 50 years in Freemasonry of James (Jim) Bolton in the presence of Assistant Provincial Grand Master Stewart Seddon and group chairman Peter Lockett.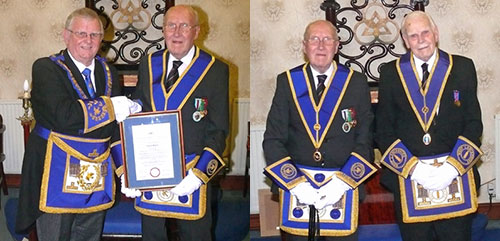 As is customary on these occasions, Stewart Seddon retained the gavel when it was offered and proceeded to tell the brethren of the life and times of James Bolton. He took us from his birth in 1930, his early life and then his working life.
Stewart then turned to Jim's Masonic career telling the brethren that Jim was initiated into Ellesmere Lodge on 13 November 1968, which met in those days at the Masonic Rooms, Fellery Street in Chorley.
His proposer was Bill Carr, his cousin, who was present to witness the celebration. Stewart went on to detail the distinguished Masonic career that Jim had enjoyed over the past 50 years and commented that he had always been a good ambassador for the Craft.
Following the oration, Peter Lockett read out the certificate from the Provincial Grand Master recognising 50 years of service after which Stewart Seddon presented it to Jim.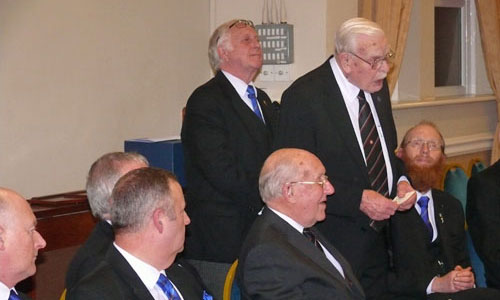 The formal side of the celebration over, Stewart together with grand officers and acting Provincial grand officers retired and on this special occasion, Stewart invited Jim to accompany him out of the lodge.
The brethren soon joined the grand and acting Provincial grand officers and took the opportunity to offer their own personal congratulations to Jim and to share memories of the past 50 years.
Everyone then took their places at the social board and the conversations and memory sharing continued whilst they enjoyed a three-course meal prepared by Sharon, the hall caterer and served by her ever efficient staff.
The toast to Jim Bolton was given by his proposer, Bill Carr who then presented Jim with a cut glass decanter. Jim suitably responded and thanked everyone for attending. He made special mention of the fact that the Provincial Grand Master Tony Harrison had rung him that morning to wish him well.
The evening grew to a close with everyone present having enjoyed a wonderful evening of celebration for 50 years of service to Freemasonry.
We hope to see you at your 60th Jim!