Brethren of Goodwill Lodge No 3896 were honoured on at their May 2023 meeting by the presence of Assistant Provincial Grand Master Andrew Whittle accompanied by Mersey Valley Group Chairman John Murphy and more than 50 officers and brethren of other lodges to celebrate David Redhead's 50 years in Freemasonry.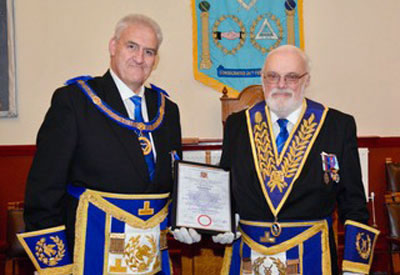 Master of Goodwill Lodge Jim Ross offered the gavel of the lodge to Andrew which was readily accepted and after expressing his delight at being invited to take part in such a special celebration of a brother's 50th anniversary in Freemasonry. Andrew then asked the director of ceremonies Gary Smith to place the celebrant before him on the floor of the lodge to receive a recollection of his personal life and Masonic career.
Andrew began by recalling some of the famous people that shared the same year of birth as David including our newly crowned King Charles III, former President of the USA Bill Clinton and composer Andrew Lloyd Webber. Fine company indeed!
So, August 1948 saw the arrival of James and Dorothy Redhead's second child, David. James worked on the family farm in Laughton whilst Dorothy was in domestic service and had been a member of the WAAF. Not long after the Second World War ended, James decided that he would leave farming and move to Staffordshire where his wife Dorothy originated from and took a job at a coal haulage firm later becoming a Transport Director.
David started his schooling at Woodville Primary School in Woodville, Staffordshire before moving to Ashby Junior School in Leicestershire. David then progressed to Ashby-de-la-Zouch Boys Grammar School in Ashby, Leicestershire where he obtained 5 'O' levels and 2 'A' levels.

After leaving school David decided to attend Bradford University to read Chemical Engineering and obtained a BSc (Hons) degree. Whilst studying at Bradford University he met a young lady called Linda who was studying at the Teacher Training College over the road from the university. This would be the start of a true love story and they would be married on 25 July 1971 in Astley, Leigh and will be celebrating their 52nd wedding anniversary I July 2023.
David and Linda had three children: eldest daughter Rachel aged 44 years who is married to Neil and lives in Chelmsford with their three children Charlotte 18, Jessica 13 and Lewis 10. Second daughter Laura 40 is married to James and lives in Cambridge with their two children Eleanor 6 and Noah 3. And son Lewis 37 who lives in Runcorn and works as the Widnes Masonic Hall Manager.

David's career as a Project Manager for the Cabot Corporation took him on a variety of construction projects in the United Kingdom, France, Italy, Spain, Germany, Holland and the Czech Republic and he also spent several years based in Pampa, Texas.
David has also been a church warden and treasurer at the family's local church, St John the Evangelist in Western, Runcorn for the last 25 years, and he still holds both posts today.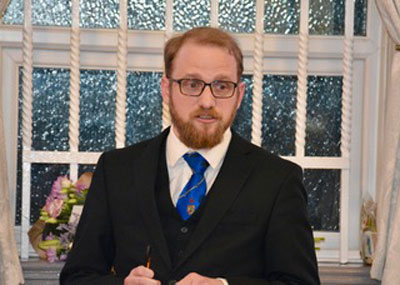 It was on the 24 April 1973 that David was initiated into St Aiden Lodge No.4063 at Birkenhead in the Province of Cheshire. He was passed to the degree of a fellow craft on 22 October 1973 and raised to the sublime degree of a master Mason on 26 November 1973. He was installed as WM of Wilmere Lodge No 8472 on 1 October 1984, Mersey Valley Lodge of Installed Masters No 9057 in January 1989 and WM of St Aiden Lodge on 23 September 1996.
David was exalted into Royal Arch in Bridgewater Chapter No 758 in March 1981 and was installed as first principal in December 1989.
He was appointed Widnes Group Secretary in 2000, Group Vice Chairman in 2005 and served as Group Chairman between 2006 and 2013. He also served as Widnes Masonic Hall Ltd Board Chairman from 2020 to 2021.
David remains active in many Craft lodges, Royal Arch chapters and many other Masonic Orders which are far too many to mention here but suffice it to say he has demonstrated a passion for the Craft and Holy Royal Arch that has not waned over the last 50 years.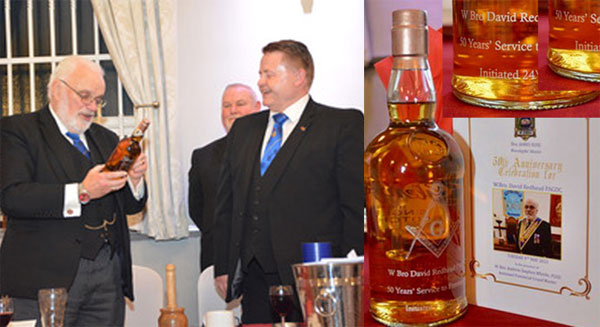 David's Masonic career has been distinguished and varied and in recognition for the work he has done for the Province of West Lancashire, he was appointed his first Grand Rank as Past Assistant Director of Ceremonies on 30 April 2008.
Andrew then asked Mersey Valley Group Chairman John Murphy to read the certificate to celebrate his 50 years in Freemasonry and it was presented to David by Andrew on behalf of the Provincial Grand Master Mark Matthews.
The festive board took place in the Alan Locke Suite of Widnes Masonic Hall. During the evening's celebration Lewis Redhead proposed the toast to his dad's health to which David gave his response. In token of the esteem David is held by the brethren of Goodwill Lodge he was presented with some gifts by Jim Ross on behalf of the brethren of Goodwill Lodge to mark this special occasion.