At the meeting of Academy Lodge No 9382, 50 members and guests assembled at the Warrington Masonic Hall to witness Graham Greenall proclaimed as master for a second term in this lodge.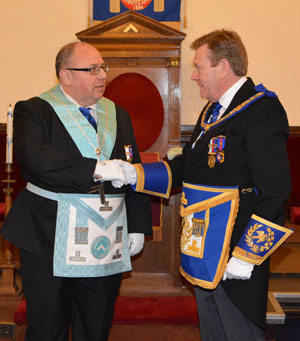 Graham opened the lodge and conducted the usual administrative duties and then in the second degree Graham requested to John McIntyre occupy the SW chair, Vic Charlesworth the JW chair and Barry Corcoran was invited to remain as IG.
Graham thanked the members of the lodge for their support to date and asked for support in the coming 12 months. He also thanked Eric Kehoe for all his hard work over several years as secretary of the lodge and hoped he would enjoy his retirement from the role.
The lodge was opened in the third degree and Assistant Provincial Grand Master, Kevin Poynton was admitted with his colleagues of grand lodge, including Past Assistant Grand Master Dennis Rudd, Gordon Amos, Andy Whittle and Chris Eyres. The acting Provincial grand officer was Peter Barton.
Graham Greenall was then proclaimed as WM for the ensuing year by Norman Pritchard.
In Graham's professional life, he left Wigan College of Technology with a Higher National Diploma (HND) in Business Studies and specialised in business law. He also holds National Qualifications in Counselling which took him to first first job which was counselling and assessing juvenile offenders for the Home Office to see if they were suitable for parole.
During this time, he was approached by one of the country's leading firm of solicitors to see if he would consider working for their 'Crime Department', which he joined shortly afterwards. He also specialised in welfare and debt law and has carried out regular television and radio interviews concerning those areas of law.
Meanwhile in his private life Graham has been married to Sharon for 18 years. Sharon claims, 'this is because she is the only woman daft enough to take him on'. Socially Graham enjoys reading, walking, music and most sports.

Whilst at school he represented Wigan schools and colleges at cricket, rugby union and league, basketball and volleyball. He progressed in sport to coach several successful junior rugby teams. At 16 years of age he claimed to be the youngest qualified rugby referee in the world.
He is now a consummate rugby union referee, assessor and coach. Not only well accomplished in rugby, he has enjoyed many successes in cricket and has had 'County Trials' and claims a fantastic club cricket career, where he has met many people with whom he is still friends some 40 years after first playing with and against them.
Graham is a dedicated and enthusiastic Presbyterian Lay Preacher travelling to preach somewhere in the north of England most weekends.
Graham stems from a Masonic family where his father, uncles and older brother were all Freemasons and his older brother still is. He is a member of Craft and Royal Arch Masonry along with several other Masonic Orders, of which he holds a high rank in some of these. He actively states he enjoys his Masonry very much, particularly in the Warrington Group.
Back to the meeting, John Wright, Darren Poole and Warren Whalley presented and explained the third, second and first degree working tools respectively. Norman Pritchard, Dennis Rudd and Kevin Poynton provided the addresses to the WM, wardens and brethren of the lodge respectively.
Cheques were presented to Kevin for the following charities: Alfie Lund Trust £150, Masonic Charitable Foundation £200, MECP2 Duplication Syndrome Charity £150, Warrington Masonic Hall Co Ltd £150, Zoë's Place £200 and Warrington Museum of Freemasonry £150.
An excellent three course meal followed and in an adjacent anteroom 14 ladies enjoyed a meal to celebrate the event.