Zac Lewis, the stepson current WM Martin Stewart, was initiated into Lodge of Chivalry No 3974 in November 2019.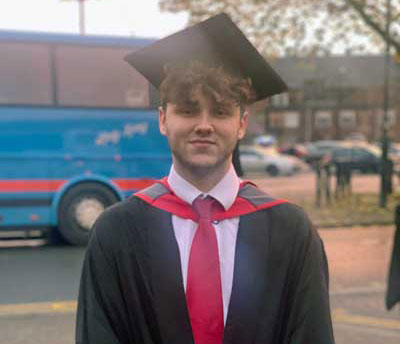 Due to the COVID pandemic Martin has stayed in the chair for a third year and plans to raise Zac to the degree of a master Mason in February 2022.
When Zac joined the lodge, he was studying Product Design at Staffordshire University, which he completed in 2020, however, due to COVID he was not able to attend the graduation ceremony until now. From year-to-year, Zac has been amongst the highest achieving students in his class, only receiving firsts for the projects he has submitted. In Zac's opinion this is due to both his background and growing interest in engineering and his passion for learning.
During his last year at Staffordshire University, he was set the brief to design a product or system that will greatly relieve on-site injuries, for those working in construction.  During this period, everyone was tragically hit with the COVID-19 pandemic, causing the university to shut down, forcing all students to take on a virtual way of learning. With nothing to do but stay at home, Zac jumped feet first into his design work to ensure that he designed the most efficient and reliable product he could.
Zac is currently studying for a master's degree in design management at Bournemouth University but he still finds time to attend lodge meetings most months and is currently the inner guard and he is keen to progress through all the offices in the lodge.