The WM of Lodge of Chivalry No 3974 Stuart Flynn conducted the ceremony of initiation for the third time since the start of the season, with the assistance of the IPM Martin Stuart who acted as senior warden and delivered the charge after initiation.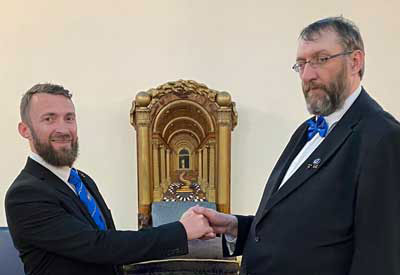 The lodge junior warden, Adam Woods once again gave an excellent explanation of the working tools and junior deacon, Alex Sharp conducted Carl James Flaherty around the lodge with confidence and considering that Alex only did his first degree in December 2021 and was only appointed as JD in October 2022, he did a wonderful job.
There were 8 guests at the meeting, including the Provincial Grand Mentor Stewart Cranage, who witnessed two master Masons receive the explanation of their master Mason's certificates given by Martin Stuart, whose son Zac was one of the recipients.
At the festive board, Carl said that he had enjoyed the ceremony and that he was now looking forward to the February meeting where he will be able to hear the explanation of the first degree tracing board.
The Lodge of Chivalry is growing at every meeting, as during the meeting a joining member was proposed. In September 2020 it had 18 members and in January 2023 it has 31 members.