Wyre Lodge No 7704 showed true Easter spirit by organising an Easter egg collection on behalf of Brian House Children's Hospice. This was masterminded by Frank Kennedy, the lodge's charity steward.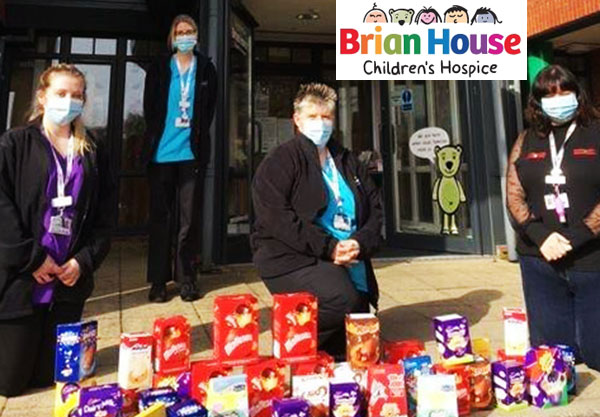 Michelle Lonican, the charities Community Fundraising Manager thanked the lodge members for their generous donation and its continued support and said that the eggs will be distributed through Brian House and across the Fylde through the service that Brian House and its staff provides.
Like all charities, the current COVID-19 pandemic has seen a dramatic reduction in donations to Brian House and these eggs are certain to raise spirits among the children and families that the charity cares for.
Brian House is a children's hospice caring for youngsters and their supporting families who live on the Fylde Coast and beyond. It cares for children who have life-threatening or life-limiting conditions with complex needs. It provides this care free, in a home-away-from-home environment and supports the whole family.
Children aged from 0-16 years can be referred to Brian House, with families having access a wide range of services dependent upon their need. The services available at Brian House can include planned respite care, symptom control, nursing and practical care and bereavement support (including use of the Butterfly Suite: a purpose-built space where families can take time to say goodbye to their child after they have died). Specialist around-the-clock care is provided by qualified paediatric nurses, health care assistants, play workers, music therapists, with links to other professionals and a network of skilled volunteers.
Members of Wyre Lodge are next organising a virtual balloon race with the hope of raising £3,000 for Trinity Hospice. Balloons can be purchased for £3 and details of how to get involved can be found on Wyre's Facebook page, for details click here.