Self-styled 'wonderful' Wyre Lodge No 7704 lived up to its name by continuing a project which was started by the former Normoss Round Table Lodge No 8741.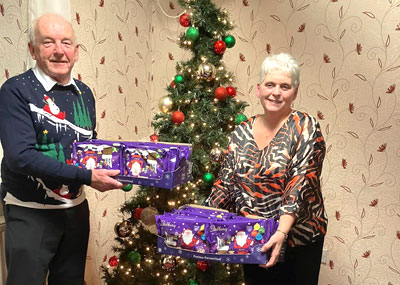 The project is to bring Christmas cheer to children attending the A&E department of Blackpool Victoria Hospital (BVH) over the Christmas period by presenting the children attending the department with a selection box.
This has proved a very successful venture which is much appreciated by the staff at Blackpool Victoria Hospital as it is just the right medicine for youngsters attending A&E at the hospital.
The donation of selection boxes to children at BVH was originally the brainchild of former lodge member Peter Gunn and his wife Joanne who just happened to work at the hospital. Sadly, Peter is no longer with us but Joanne was delighted to come along to receive the selection boxes on behalf of the hospital.
Other lodges and individuals in the North Fylde Group also thought the donation of selection boxes was a great idea and supported Wyre Lodge's efforts by joining in with donations of the chocolate treats. Wyre Lodge's successful Ladies to Dine Christmas Evening also helped in no small way to purchasing the chocolate goodies for the community project.
This additional generosity meant that the WM of Wyre Lodge, Stephen Kerrigan, could donate part of the sleigh full of selection boxes to Faith in the Community at the Pantry in Fleetwood as well as the Salvation Army in Fleetwood.
All of the organisations who received the donations expressed their gratitude to the brethren and lodges of the North Fylde Group for bringing extra Christmas cheer to the local community.