Masons believe in an ethical approach to life, with values based on integrity, kindness, honesty and fairness, were members are urged to regard the interests of the family as paramount. However, Freemasonry also teaches and practices concern for people, care for the less fortunate and help for those in need.
These values are something Woolton Freemasons have been practising all season. Many local charities have benefited from large donations, in particular the Marie Curie Hospice in Woolton, as the group has donated money towards the cost of building a coffee shop for the hospice.

On a warn spring evening, members of the Woolton Freemasons, together with friends and family, gathered at the Village Hotel in Whiston for a 'Gala Black Tie Dinner'. The hotel had dressed the room fit for the occasion.
Some 90 Masons and their family and friends gathered for the celebration which will round off a very eventful season, where lodges in the group had initiated several new members and a number of brethren had celebrated achieving 50 or 60 years in Freemasonry.
The group had held a very well supported Sunday carvery, which had raised £359 towards the amount that would be given to Marie Curie and to add to this a raffle was held during the evening which raised a further £680.
After the Group Vice Chairman Mike Cunliffe had offered grace, the diners enjoyed an excellent meal of chicken liver pate, mozzarella stuffed chicken breast, followed by champagne torte and a cheese board.
Gary Devlin of Anfield Lodge No 2215, acted as director of ceremonies for the evening and kept the proceedings in full swing. The Group Chairman Andrew Whittle, having welcomed everyone, explained that the reason behind this year's event was to allow masters and their wives/partners to attend an event similar to a ladies evening, as many of the lodges in the Woolton Group were small, so were not able to put on such an occasion.
Each master's lady was presented by the group chairman with a beautiful bouquet of flowers, which was followed by the raffle.
Musical entertainment was provided by the hotel's resident DJ and post dinner by "Mid Life Crisis" who played a selection of well know songs which encouraged diners to get on the dance floor.
As carriages were called for at midnight, a weary party made their way home. Again, another excellent and very enjoyed Woolton Group social event and those who attended are looking forward to next year's event with the same enthusiasm.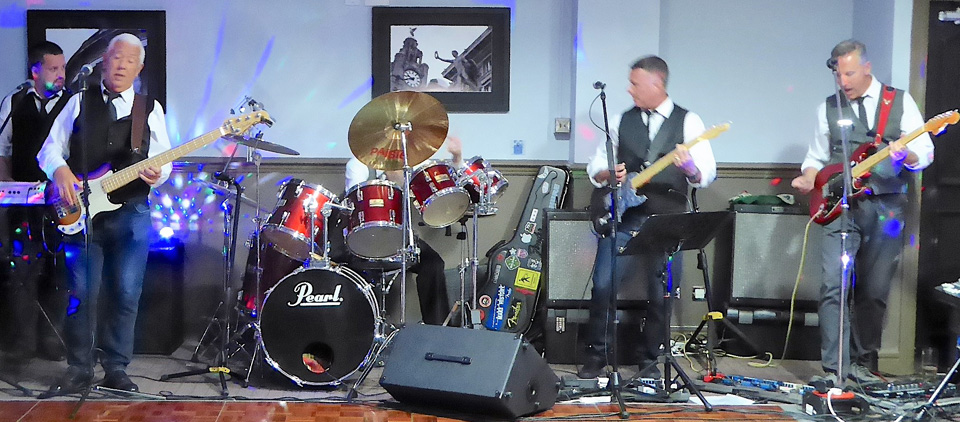 Story and pictures by Colin Roberts.