Alder Hey Children's Hospital in Liverpool, is the world's first to be built in a park!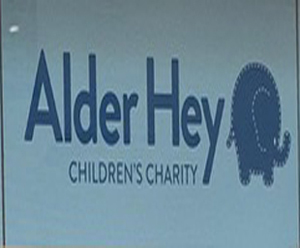 The brethren of Woolton Lodge of Unity No 1086, which meets at Woolton Golf Club, were delighted to be able to make a donation to the charity as a way of saying thank-you for all the wonderful treatment the WM's son has received. The charity raises vital funds to help make Alder Hey Children's Hospital a truly world-class, patient- friendly hospital, for the 275,000 patients and families cared for every year.
Since April 2013, over £43,000,000 has been raised for a range of life-saving medical equipment and facilities that are making a real difference to families every day – but support is still needed. The charity helps to fund a range of activities and projects that are designed to enhance and improve lives of the amazing young patients. This includes the funding of specialist medical equipment to ensure the surgeons and clinical staff have the most up to date and cutting-edge technology available. The charity also funds a range of programmes and special projects such as ward musicians, an on-site magician and play specialists for every ward. The ground-breaking ward-based chef programme ensures the hospital is delivering healthy and nutritionally balanced food to all the patients when they need it most.
In 2014, Alder Hey Hospital came to the rescue of the lodge's WM's son Stephen, who was attacked by a neighbour's dog, leaving him with a gaping wound to the left side of his face. These life changing injuries were the beginning of a journey with Alder Hey Hospital, from the fantastic plastic surgeon, who painstakingly patched Stephen's face up, to the wonderful administration staff, who still to this day try to accommodate the family with appointment times around Stephen's schooling, every six weeks. So, the lodge decided it would make a £500 donation to the charity. The WM Steve Booker, accompanied by his son Stephen and lodge treasurer David Rimmer, visited the hospital to hand over a cheque to the hospital's charity representative Helen Hughes.
The hospital needs people's support for next-generation technology to change hospital visits forever. Fundraising is on-going, to revolutionise the hospital experience for young patients and families, by piloting next-generation technology to reduce anxiety, distract patients during procedures and to help parents relax. So far, this has been a real success, but the hospital needs more support, so that all of their waiting areas can be entertaining and fun environments for patients. Support will help fund this digital Alder Hey project.
Alder Hey is already home to some amazing technology. The digital fish tank, where patients waiting for day case surgery can relax by designing a sea creature and watch it swim, is the only one of its kind in Europe.
To help manage anxiety before arriving, the hospital wants patients to use their app, Alder Play, to explore a digital version of Alder Hey so they can see their ward and meet the staff. The app provides games and augmented reality features to distract patients during a stay, as well as link to a reward scheme encouraging a healthy lifestyle.
If you would like more information please visit: www.alderheycharity.org or follow them on Facebook or Twitter.
Stephen and his family have many reasons to be eternally grateful to this wonderful hospital. As a family, they are also thankful to the Woolton Lodge of Unity for their kind donation to this wonderful organisation.