The brethren of Derby Lodge No 724 and their many guests turned out to support John Smith on the celebration of his golden jubilee. The lodge was particularly honoured by the presence of Assistant Provincial Grand Master Kevin Poynton.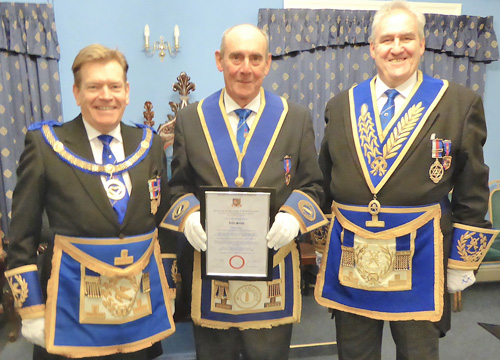 In the absence of the WM, John Lee occupied the master's chair and warmly welcomed everyone, hoping they would have an enjoyable evening. John informed the brethren that one of their members was to receive Provincial honours in April and asked the brethren to congratulate Robert Cremor, who would be receiving the rank of Past Provincial Grand Superintendent of Works.
The Provincial Deputy Grand Director of Ceremonies Ian Halsall, entered to announce that the APrGM Kevin Poynton stood outside and demanded admission. Kevin accompanied by other grand and acting Provincial grand officers processed into the lodge and were warmly welcomed by the WM, who then offered Kevin the gavel so that the celebrations could commence.
Kevin asked that the celebrant John Smith be placed before him and ensured that he was comfortable.
Kevin began by telling the brethren that he had much pleasure in preparing and researching the background to today's celebration, for 50 years' service in any walk of life is a living testament to a man's commitment and that it is commendable in its own right.
John Smith was born on 21 May 1937 at home in Sandy Lane, Aintree, to parents Jack and Lily Smith. His father was a bookmaker who had a shop originally in Seaforth, but the property was compulsory purchased by the local council to allow them to build the new container base, so he had to find a new shop, which he did in Hawthorne Road, Bootle. However, he was in the shop with the owner and was just about to do the deal, when the owner mentioned he was waiting for his accountant to call and five minutes later the accountant walked in looked at John's father and said: "Oh! Jack Smith the bookmaker" and the shop owner immediately doubled the asking price. His father said no thank you and walked out. Unfortunately, it was just a couple of months later when his father passed away very suddenly, being only 61 at that time. His mother had a couple of jobs, one of which was at the Royal Ordnance Factory in Fazakerley and then later at Jacobs, renowned for its famous cream crackers. John has one sister Lily.
John's first school was Longmoor Lane Infants School, followed by Barlow's Lane Junior School until he was 11 years of age, at which point it was back to Longmoor Lane Secondary Modern school. The girls' secondary modern school was on the same site, but separated by a 14-foot-high wall, which he never learned to climb.
Time at Longmoor Lane Secondary School was quite short, as he left there at the age of 13. John had taken his 13 plus exams, but did not pass, so his father took him out of the school and placed him at Skerry's Private School in Rodney Street. This school worked from the Oxford and Cambridge entrance exams and to obtain his certificate he was required to pass five exams, but as he only managed three, he never received his certificate. John then signed his indentures to become an apprentice shipwright, with the Alexander Towing Company, which had 27 tugs on the River Mersey, working out of Huskisson Docks and this was a job that he enjoyed very much indeed and was keen to get there every morning. The job only lasted nine months, as his father fixed him up with an apprenticeship as an engineer with W P Hartley, a jam and canning factory. John went for an interview, which lasted approximately three minutes before John was sent back to personnel to be told: "Okay, you will be starting work here next Monday." So, John started as an apprenticed engineer and during that time achieved his Ordinary National Certificate (ONC) in engineering.
A little later he was called up for National Service, but on examination it was found that he had an irregular heartbeat, politely thanked and turned down. Not to be deterred, John carried on his apprenticeship gaining an ONC in heat engines, which was in the form of an endorsement on his existing certificate.
In 1956 John met Nora at Orrell Park Ball Room. Both were dancers, but John openly admitted he had two left feet. John and Nora were married at Saint Nathaniel's Church off Rice Lane in September 1960. On their wedding day, Nora had a heavy cold and her eyes were watering so much that when she arrived at the church, the vicar who met her at the car, thought she was crying and said to Nora "You know you may think you have to get married but you don't", he thought she was pregnant!! He would have had to wait a good while as it would have been the longest pregnancy in history, because their first child didn't come along until five years later. They have lived at the same address for nearly 60 years.
Their first son Peter was born in 1965 followed later the next year by David. Peter is married to Julie and they have a 7-year-old daughter named Olivia. David is married to Joanna and they have two girls, Amelia who is 10 and Luella who is six.
In 1966, John left Hartley's to become a shift manager at a company called Parsons Chains, which produced chains for the coal industry in Skelmersdale. John had this place running at 95% efficiency but the other factory was only running at 80% and the managing director used to come and complain to him that the output in the factory should be running at 100% not 95%. After 6 months of this harassment, John told him that he was living in a dream-world and told his manager to stick his job and walked out. In 1968, John took a position at John West Foods, which were based at Port Sunlight. John was employed as the works engineer, but unknown to him they sold part of the organisation to another company, who he eventually went to work for, but in 1987 they told John they could not afford his salary.
John then joined British American Tobacco at Commercial Road in Liverpool, as their works engineer. Later, he was told that they were closing the factory and wanted him to be relocated to the south of England, to which he said no and changed jobs again to join the Strong Group as an engineering manager. This was a heating and ventilation company, who had some really big contracts, a 'job' he hated! The job itself wasn't too bad but the people didn't fit in with his work ethics. He stayed there for 8 years and whilst on holiday he decided to tell Nora that he was not going back to work and would retire, because at the age of 60 or 61 no one would be likely to employ him. Nora was ecstatic, but wanted to carry on working, which she did finishing her career as the personal assistant to senior Liverpool councillors at the Town Hall.
Both John and Nora are now retired and live their lives to the fullest extent. John has had one or two hobbies in the past; darts being one of them. He was also a cricket fan and played for the school and for Lancashire, but could not make the constant journeys to Manchester, so packed it up and played for Hartley's cricket team. He was opening bat but in his words was 'rubbish' at bowling. He also played golf for a number of years until his knees gave in.
Turning to John's Masonic career, Kevin informed everyone that John was initiated into the Duke of Devonshire Lodge No 6735 on 23 January 1969, passed and then raised. Passing through various offices, he attained the chair of King Solomon of that lodge in September 1977.
Kevin then surprised all present, by telling them that John had received a telegram from the Queen on his ladies night, wishing them both an enjoyable evening, and just to prove it, John produced the telegram.
John has held the offices of charity steward, director of ceremonies, preceptor, treasurer and 2021 Festival representative.
The Province obviously noted his efforts, for on the 23 May 1988, he was appointed the rank of Past Provincial Senior Grand Deacon. Then on October 10th 1996 he was promoted to his present very high rank of Past Provincial Junior Grand Warden.
To further mark the evening's celebration, the Provincial Grand Master Tony Harrison had caused a commemorative certificate to be prepared to mark John's 50th year in Freemasonry. which Kevin asked Woolton Group Chairman Andrew Whittle to read. Kevin then had the utmost pleasure in presenting it to John, to the acclaim of the brethren.
Kevin asked John Lee to resume the master's chair, so that the evening could be brought to a conclusion, allowing the brethren to retire to the dining room, where the celebration could continue.
During dinner a raffle was held which raised £150 for Masonic charities.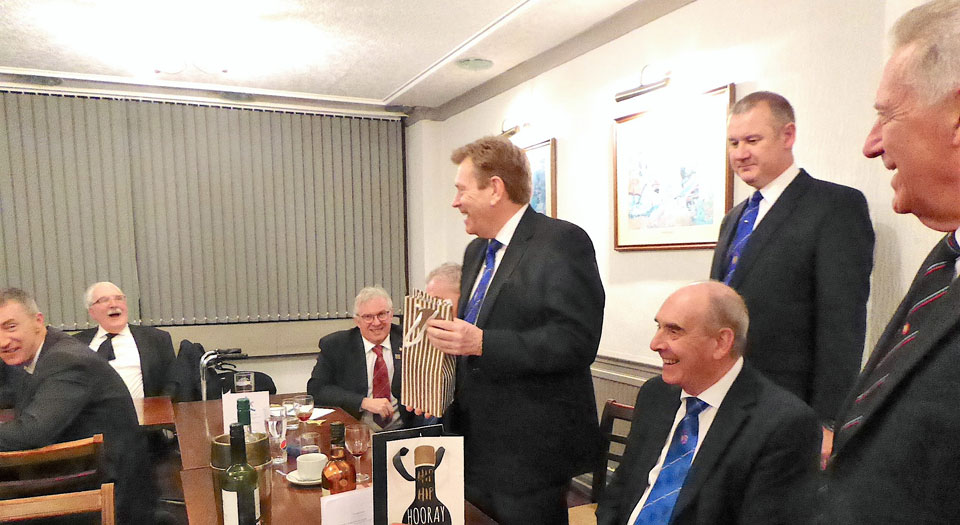 In responding to the toast to his health, Kevin thanked everyone with particular mention of Ian Halsall and the acting Provincial grand officers who so regularly accompany him and the lodge secretary Adam Kennaugh, who had collected information for Kevin.
Kevin then thanked the Woolton Group Publicity Officer Colin Roberts and all the other members of the publicity team, which he had the pleasure to lead. Publicity reports in West Lancashire were flourishing, bringing in lots of revenue and a wide readership audience, this was met with acclaim from the brethren.
John Chadwick had the pleasure of providing the toast to the celebrant, saying that John was an unselfish man and told everyone that some years ago one of the brethren together with his family left for a job in South Africa. Unfortunately, shortly after the brother was involved in an accident and died. The lodge heard about this and realised that the wife had virtually no money as the family had not been there long enough to accrue savings. John arranged to fly out, meet with the widow and escort her and the children back to the UK. The lodge collected £500 to assist the widow.
A gift and cards were presented to John.  It had been a great evening, which had been enhanced by the research undertaken by Kevin, in bringing alive 50 years of Masonry for John and the brethren who had supported the event.

Story and pictures by Colin Roberts.