With the devastation of the COVID-19 virus impacting across the country many people jumped to the fore in a battle to alleviate the misfortunes of others. Groups sprang up with one aim only, to assist those in need, and one, the Liverpool St Michael's Community Support Network has been a perfect example. For those not familiar with St Michael's, it is a charming old hamlet nestled around a church towards south Liverpool, just a few minutes' walk from the better known Aigburth area. Acknowledged as a local Liverpool beauty spot, St Michael's in the Hamlet is something of a local treasure set in its Gothic surroundings.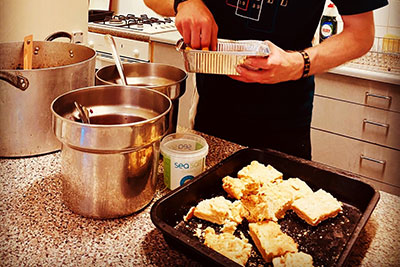 It was from here that was envisaged and born as an organised volunteer network with the aim of offering aid to those in the area most in need during the COVID-19 crisis. This newly raised force of civilians has been cooking and delivering 100s of meals every week to the most vulnerable of Liverpool.
A volunteer army of chefs, route organisers and drivers have been providing 100s of hot meals to vulnerable people every week during the coronavirus crisis. St Michael's Community Support Network in south Liverpool swung into action to arrange hot food drop-offs to those most in need. Starting in May with a debut dinner of genuine scouse, of course, the team has transported between 100 and 120 meals a day, three times a week.
Jacqui Comber is one of more than 240 volunteers who signed up to help the network when the crisis began, and now she, like a core of others, has a route of regulars who look forward to her visits. In an interview with 'The Guide Liverpool' she said: "When we deliver, the response is amazing; they say it's so nice to have food for the day and someone to talk to. These are people who are elderly or vulnerable and they are shielding; they're in isolation, so they can't get out to get any food for themselves. We go to their homes and they're just so glad to see us. One of the guys rang us to say he'd been feeling a bit down and then he got his hot meal and it cheered him up because it wasn't just that he had something to eat, it made him realize that somebody cares. That's what we're trying to do; to support people and make a difference where we can."
Jacqui who lives in Mossley Hill, joined St Michael's Community Support Network after spotting an appeal in the window of a shop while she was out walking in Sefton Park. "It said they were looking for volunteers to help with delivering prescriptions, shopping and dog walking", she recalls and added, "I texted to offer help and Kal Ross who is the project organiser rang and asked what I could do. I usually work in St Hugh's Primary School as learning support two days a week and I volunteer one day doing meet-and-greet at Strawberry Fields but because of the virus I had more time and I was looking for something else to do. This was a way to do my part and help where I could."
At the end of May, when the restaurant which had been providing meals was no longer able to because its own business was changing, the network stepped in to take over the meals on wheels service.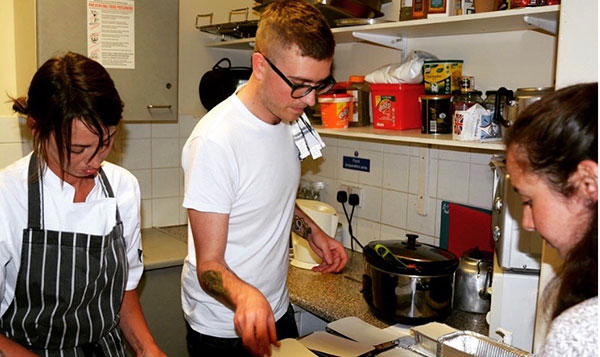 Kal said: "We'll take over and he got it all organized, so it was seamless; there wasn't a gap where people missed out. St Michael's Cricket Club in Aigburth came forward and said we could use their facilities and their kitchen. We have chefs who are amazing and cook everything from scratch, and there's Sam who organises the routes, Terry who makes sure we have all the personal protection equipment (PPE) for when we deliver the food, and a core of other volunteers. It's just a lovely team."
The meals on wheels service was launched on May 22 and now operates on Wednesdays, Fridays and Sundays, stretching from St Michael's to Allerton, Hunts Cross, Cressington, Mossley Hill, Princes Park and West Derby.
"We did fish and chips, mushy peas and tartar sauce on Friday – that was a massive hit and we do roast dinners on a Sunday which everyone loves", said Jacqui. She added: "We're trying to take out two dinners with some deliveries, so on Sunday I took out the roast dinners and also sausages and new potatoes for Monday so we know people have another meal already prepared, they just have to heat it up. Without our deliveries, we just don't know when they would get a hot meal because a lot of people who are elderly or who have health issues are still too worried to leave the house."
Jacqui continued by saying that it's about more than just the food, even though obviously all those who get meals are very grateful and we make sure they're okay and chat to them when we give them their meals and it reminds them that they matter. Sometimes they're afraid to ask for help because they think there's someone more worthy than them but we tell them the support is there for anyone who needs it.
The project relies on funding to keep creating its meals, at least 300 every week, but Jacqui said that the response they've had in the city, from individuals and businesses, has been heart-warming.
"West Lancashire Freemasons' Charity stepped in and made a donation of £1,700 which has helped us keep going and Liz McClarnon's dad John has been a big supporter too. The network has a 'GoFundMe' page set up and people have been really generous, including some of those we deliver to who just want to show their thanks. We'll keep going as long as the need is there and we've got the funding," she added. To donate to the Liverpool St Michael's Community Support Network, click here
"The positive outcome of this virus has been how many people have come together to help each other. It's definitely brought communities together and hopefully that will carry on."
Article and photographs with grateful thanks to Jacqui Comber of Liverpool St Michael's Community Support Network, and The Guide Liverpool at theguideliverpool.com.