The celebration of a brother's 50 years anniversary of his initiation into Freemasonry is a very special occasion that not many are lucky enough to attain. It is special both for the celebrant and for the lodge. It is a moment when both can take time out to remember and reflect on the last 50 years, the good and the bad, the ups and the downs. It is a time to say thank you and to congratulate the celebrant for 50 years of service to the Craft in general and his lodge in particular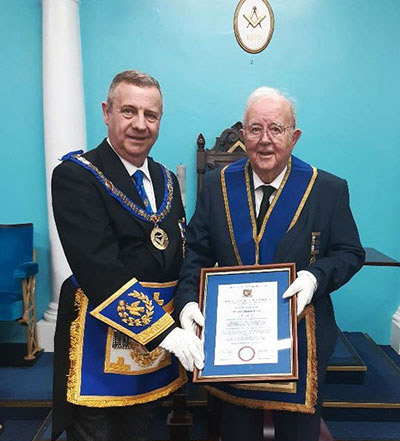 Assistant Provincial Grand Master Peter Lockett joined the members and guests of Lever Park Lodge No 8144 for such a celebration to honour Edward Winston Banks. During the ceremony, Peter took Winston and the brethren for a walk down memory lane and in his words presented Winston's 'This is your Life' story.
He started his presentation by saying that on a Thursday in January 1941, Mrs Edith Banks gave birth to a son to be named Edward Winston. His father John Banks was a butcher and his mother Edith was a secretary at Whitehead's Store for 'old' Mr Whitehead.
Peter went on to say that the family lived initially over the family business, a butcher's shop on Halliwell Road in Bolton. Later they moved to Temple Drive in Smithills, still within easy reach of the business. Winston had a sister, Susan (Sue) born in 1949. His mother Edith contributed to the business keeping the books and paying the bills. The business supplied Burton's factory canteen as well as members of the public.
Winston attended St Paul's Primary School in Astley Bridge and later went on to Cannon Slade Grammar School. As a youth he was a keen scout, gaining the Queen Scout's Award and representing Bolton when, in 1957 he attended the International Jamboree in Sutton Coldfield. He left school that year, following taking his GCE's and joined the family business, causing the signage over the shop to be changed to read, 'J L Banks and Son'. He continued to study at night school, sitting Meat Inspector's Exams and learning about bakery products. After his father's death in 1973, Winston continued in the business for several years.
He eventually approached Warburtons knowing that they had Peter Hunt Ltd as a subsidiary. He joined the company and worked for 15 years, working his way up to general manager/director. He had a brief spell at Ashworth's in Preston and soon moved on to a job in Chester developing savoury products. They developed and began to supply major garages, hospitals and eventually Manchester Airport.
He then became Bakery Manager for Crossfields Foods, a company bought out by Asda. The new venture was floated as Inter Link Foods and became very successful, becoming the second largest cake producer in the country behind Kipling. He began to plan for retirement around 2003, remaining as a consultant for a further 18 months.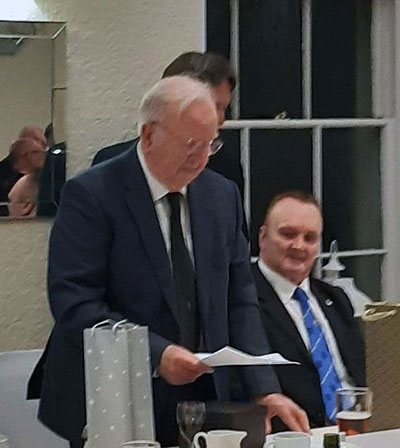 Winston married his first wife Janet (Jan) in 1969. They had a son Martin in 1973 and then moved from Cloister Street to Church Road in 1978 and had a daughter Gillian. Unfortunately, their marriage ended in divorce in 1982 and Jan passed away in 2015. Martin now lives in Blackrod with his wife Stella and daughter Felicity who is 10. Gillian lives with her husband Alex and daughter Tallulah (10) in Hermosa Beach, California, moving there in 2004.
Winston met his second wife Dorothy at Peter Hunt Ltd, where she was the office manager and both of them moved to Warburton's, back o'th' bank office, when they became an item. She already had twin daughters, Gillian and Sharon who were born in 1965 and both live in Harwood. They moved to Bromley Cross in 1983. They enjoyed many interests together but certainly shared an interest in sequence dancing. They married in August 2002 and have enjoyed travelling to their timeshare in Spain and have completed several cruises. Regrettably, Dorothy succumbed to dementia and went into a care home in 2020 where she eventually died in December 2021 from COVID-19.
Winston has been heavily involved in charity work in the community, having served as the Chairman of the Turton branch of Cancer Research UK.
Peter then turned to Winston's Masonic history, saying that his father was a Mason, along with three uncles. As a young man, he attended his mum and dad's Ladies Evening with his sister at Bolton Masonic Hall. Ladies Evenings were always very formal occasions, often starting in the afternoons with whist and cocktails. Lodge meetings were always conducted without any reading from the ritual book. Attendance at Provincial meetings and at Grand Lodge were always a highlight in those days.
Winston was initiated into the Corinthian Lodge No 3767 (Province of East Lancashire) on 13 April 1971. He served Corinthian Lodge as almoner from 1987 to 1989) and as director of ceremonies from 1999 to 2004. At one time there were seven butchers who were members of Corinthian Lodge and one can imagine the standard of the social boards. He resigned from Corinthian Lodge in November 2006.
Winston joined Wilderswood Lodge No 5932 in September 2017 but unfortunately the lodge closed in December 2019. He then joined Lever Park Lodge in September 2019 and has remained a member ever since. He held the office of senior warden in Wilderswood Lodge in 2018-2019.
He was honoured by the Province of East Lancashire in 1994 when he was appointed to the acting rank of Provincial Assistant Grand Director of Ceremonies, followed by promotion in 2004 to Past Provincial Deputy Grand Sword Bearer
He was exalted into Darley Chapter No 6531 in the Province of East Lancashire in September 1990, serving as first principal in 1996-97.
Peter concluded his 'This is your Life' by saying that there was no doubt that during the last 50 years, anyone who happened to learn that Winston was a Freemason could not fail to see him as anything other than a good ambassador for our Order,
He then formally presented a certificate which he said was an acknowledgement of the Province of West Lancashire's great appreciation of Winston's half a century of membership of the Craft.