As Director of Ceremonies, Arthur Robinson brought the lodge room to attention, everybody present was expectant of a fine ceremony. There is only one chance a year to get the installation ceremony right and this was the night for Willows Lodge No 5343 at Bryn Masonic Hall.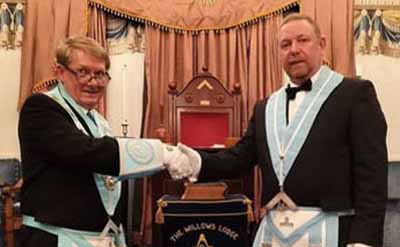 Installing master Darryl Millman had been looking forward to installing his friend and brother, Jeffrey C Burns into the chair of King Solomon and the task was undertaken flawlessly.
Stewart Cranage PAGDC representing the Provincial Grand Master Tony Harrison, commented on how impressed he was with the excellent manner in which Jeffrey was installed and that it was obvious to all that a terrific amount of work had gone into putting on such a fabulous ceremony.
When Stewart crossed the temple to shake the hand of Anthony Flinn for his outstanding presentation of the first and second degree working tools, he added that It was his first visit to Willows Lodge and he thanked everyone there for making him feel so welcome. "It was an absolute pleasure to be in your company", he said.
Ian K Dawson Wigan Group Publicity Officer.