William James (Jim) Jackson celebrated his 50 years in Freemasonry in Borough Lodge No 3996 at their November 2022 meeting in the Masonic Hall, Ashton-in-Makerfield. The celebration ceremony was conducted by Assistant Provincial Grand Master David Ogden. In attendance was Wigan Group Vice Chairman Chris Reeman,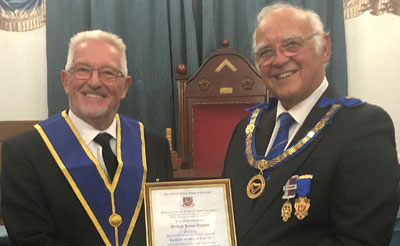 Following the opening of the lodge and the initial being dealt with, David Ogden took the chair to give a resume of Jim's life. Jim was born in February 1948 in Liverpool Women's Hospital. He was initially educated at Aspull Methodist School and Wigan Wesleyan in Dicconson Street, Wigan, while secondary education was at Whelley Secondary Modern, followed by Wigan Technical College, where Jim studied engineering which led to a 5-year apprenticeship at Walmsley Engineering in Frog Lane at Wigan.
At the age of 21 in 1969, Jim became a policeman, initially based at Halewood and later joining the Leigh Sub Division. In 1970 Jim married Dorothy and they moved to a police house in Shuttle Street in Tyldesley, before moving to Newbrook Road at Over Hulton.
Jim left the police force in 1974, and took up a position within the local authority at Wigan as an Education Welfare Officer before being subsequently seconded to Social Services after gaining a Manchester University Diploma in Social Work. In 1986 he became responsible for the resettlement of persons with learning difficulties from mental health facilities, into the community.
In October 1972 Jim was initiated into Borough Lodge at Tower Buildings in Wigan. Jim's father William Jackson (Jnr) and his grandfather William Jackson (Snr), were present at the initiation. Jim became master of Borough Lodge in 1982, followed by assistant director of ceremonies in 1984 and director of ceremonies between 1985 and 1992. Jim took on the role of Festival Representative for the lodge between 1991 and 1997 and is currently both treasurer and almoner.
A first Provincial appointment of Past Provincial Senior Grand Deacon was awarded to Jim in 1991 with subsequent promotion to Past Provincial Grand Superintendent of Works in 2004, and Past Provincial Grand Sword Bearer in 2017.
In 1990 Jim was exalted into the Wilderswood Chapter No 5932 at Horwich. He was promoted to Provincial Grand Standard Bearer in 2009, Past Provincial Deputy Grand Sword Bearer in 2013 and Past Provincial Grand Scribe Nehemiah in 2019. Jim is currently the chapter almoner and mentor.