Ashton Trinity Lodge No 8821, meeting at Bryn Masonic hall, were delighted to be the host for a very special evening in honour of a very special Mason. The lodge was assembled to pay tribute to Alan Keary who has completed 50 years in Craft Masonry.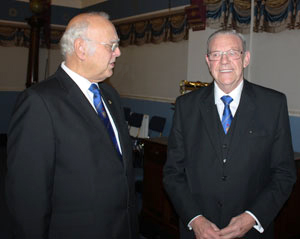 Local Assistant Provincial Grand Master David Ogden was delighted to attend to officiate, especially as Alan had been a good friend since he joined Ashton Trinity lodge. There were a number of grand officers and acting Provincial grand officers there to support Alan and celebrate with him. Alan is a founder member of the 'Wigan Wanderers', a group formed by a number of Masons to encourage visiting within the Wigan Group. Alan was really pleased to see 19 of his fellow 'Wanderers' who had come along to support him.
It was David's pleasure to preside over the meeting and he started the proceedings by giving a brief reminder of events in 1969 when Alan joined Freemasonry. He then called on Provincial Deputy Grand Director of Ceremonies Paul Hesketh to seat the celebrant in front of him before he began his tribute to Alan. Click here to read the full address.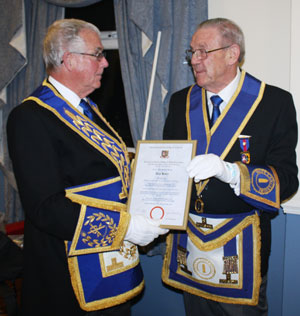 David was absolutely delighted at the chance to honour such a worthy Mason, and invited the Chairman of Wigan Group Geoffrey Porter to read out the certificate from the Provincial Grand Master Tony Harrison, which David subsequently presented to Alan.
At the end of the proceedings, David invited Alan to retire with him after the first rising and they joined together in saluting the WM as they left the lodge to enjoy a fine festive board and continue the celebrations.
At the festive board, Andy Whittle, visiting Group Chairman from the Woolston group, and a fellow member of Anfield Lodge, Alan's mother lodge, proposed the toast to the celebrant. Andy spoke warmly of the influence that Alan had on him as a young Mason, and believed that without his guidance, support and example as a role model, he would not personally have achieved what he had in the craft.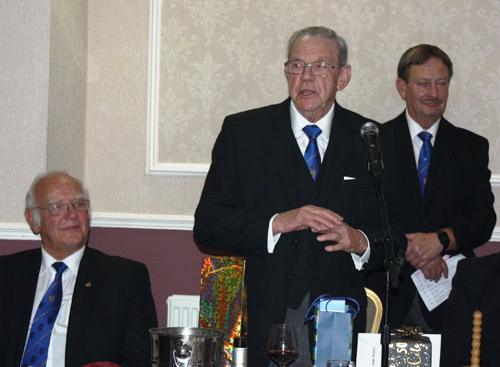 Andy also passed on a message of congratulations from his fellow Anfield Lodge member and Deputy Provincial Grand Master Philip Gunning, together with his deep regret that protocol would not allow him to attend personally to honour an individual who commanded his sincere respect.
Alan's response was heartfelt and emotional, and he expressed the joy that Freemasonry had given him over the 50 years, and the valued friendships he had made. Alan was presented with gifts from both Ashton Trinity and Anfield Lodges. It was a fine tribute to a wonderful man and a wonderful Mason.