Even when Keith Schmechel, the WM of Orrell Lodge No 8371, received a certificate of commendation from the Grand Master, HRH The Duke of Kent last summer for his contribution made on behalf of Freemasonry to those affected by the pandemic, he didn't sit back on his laurels.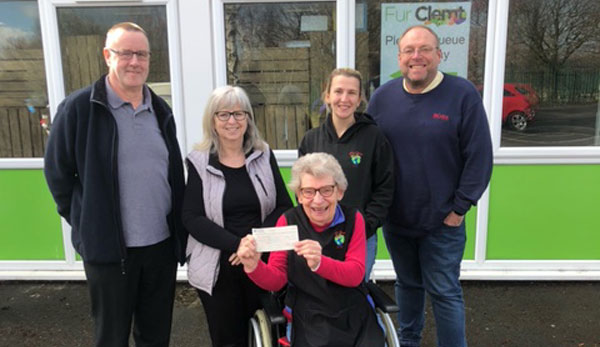 Keith and his wife Sue set about raising funds for a charity close to his heart, the MS Therapy Centre, based in Wigan. The face masks that he had produced during the pandemic may no longer have been required but he had a passion to raise funds for something very personal and close to his heart.
When Keith developed MS some time ago, he visited the centre and decided to adopt it as his personal charity and as the coronavirus situation was easing, he and Sue organised a charitable race night for the centre which raised £1,000 and having just gone into the chair of King Solomon he was also able to present an additional cheque from the lodge for £200 to 'Fur Clemt' charity which delivers food parcels to families in Wigan, totalling £1,200.
Keith said: "You can drop by the lounge any time without needing to make an appointment. Just go in and say hello. You will still need to book an appointment for the holistic therapies, chair yoga and the gym, but they are hoping to see some of their old friends (and new ones) dropping by for a chat and a cup of tea in the lounge". New visitors are always welcome and the centre is always looking for new volunteers to help out. If you have an hour or two per week spare, you could make a big difference to the wonderful charity.
The charity is based in the Marsh Green area of Wigan which provides a huge service for MS sufferers in the borough and the centre helps with advice, therapies, information and lots more. Over the last 18 months, the Therapy Centre has developed massively and has set up the provision of a fully accessible gym and specialist therapy centre for the relief of pain and discomfort of MS sufferers. This all takes place in the community centre building and they also aim for the gym to be accessible to local people with other neurological conditions, for example, the Stroke Association.

By Ian K Dawson, Wigan Group Publicity Officer.