It is with great pleasure that the Wigan and District Group are supporting the West Lancashire Food Bank Appeal by collecting food, toiletries and gifts which are being brought into the collection centre at Ashton-in-Makerfield with support from all the Wigan Group of Masonic Lodges.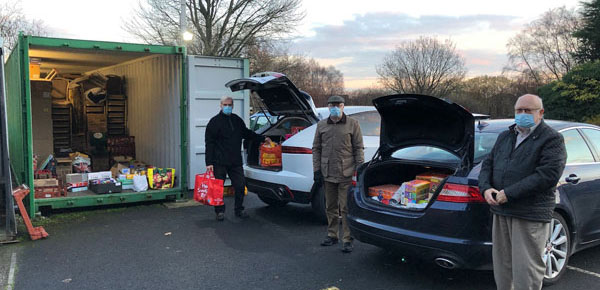 On the first day of opening the collection centre at Bryn Masonic Hall, Wigan, Masons were busy dropping off their donations to be distributed to the local foodbank, 'The Brick' which is based in Wigan. Christine and Phil, catering managers at the hall, together with Wigan Group Vice Chairman John Selley and Steve Hulse didn't have to wait long. They took delivery of more than 400 items and with more gifts and supplies arrived during the day.
If you would like to donate food and toiletries, there will be someone at Bryn Masonic Hall to receive your donations between 3pm and 7pm on; Tuesday 1 December, Friday 4 December and Tuesday 8 December.
John Selley has been appointed as the Group Coordinator in support of the appeal for the collection and storage of non-perishable food, toiletries and other essential products, in addition to Christmas gifts for children. Should these dates and times not be convenient please contact John Selley on by email john.selley@icloud.com to arrange an alternative day/time.
If you would prefer to make a cash donation, John has negotiated with a local supermarket to do the shopping. Some lodge members have chosen to do this because of the strict COVID-19 precautions. This is an opportunity to give many of the items we take for granted in our day to day lives.
All this has been set up at very short notice and every group in the Province has agreed to setting up a foodbank collection. In early November, the Provincial Grand Master Tony Harrison launched the Province of West Lancashire Freemasons' Food Bank Support Appeal.
Collections are taking place over a three-week period throughout November and early December. Donations will be presented to the local foodbank The Brick in Wigan during the weekend of 12 December.