Following on from Frank Highton's sponsored walk to raise funds for The Brick in Wigan, several of the Wigan Group officers decided to pay a visit to present two cheques, one from Frank's endeavours for over £700 and another from the Wigan Group itself for £1,500.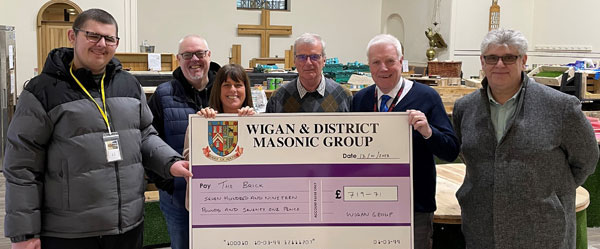 The Brick offers a weekly shop for £3 for its 800 or so members, with an annual membership fee of £5 for paying customers. In addition, they offer a voucher service in conjunction with Wigan Council for welfare customers. A sad reflection of the current social situation is that they have seen a marked shift from welfare customers to employed customers working full time, yet struggling to make ends meet and The Brick has a constant need for donations and re-supply, especially food and toiletries.
Following the presentation of the donations, a letter of thanks has been received from The Brick which reads:-
Thank you so much for your generous cash donation. Demand for our services is at an all-time high and this generous donation will go towards helping vulnerable families and individuals in Wigan and Leigh.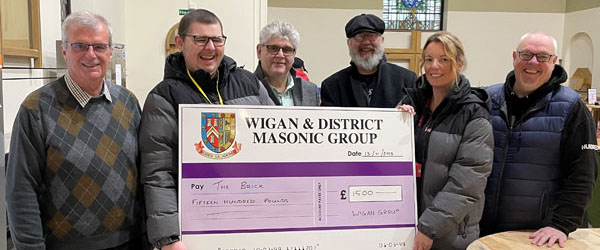 Your donation will help us to provide our vital services across the community. During the cost-of-living crisis, the demand for emergency food has increased and The Brick continue to open its doors, be inclusive and provide nutritious food and warm spaces to the whole community, regardless of demographic. Our Outreach Team continue to work with people rough sleeping to support them to access help and a route off the streets.
We continue to provide our other support services during these challenging times. Our community based Independent Living Mentors are supporting people to gain and sustain tenancies, breaking the cycle of homelessness, and our Personal Transitions Services continue to work with people at whatever stage they are to realise their worth and potential.
The whole of The Brick team works tirelessly to reduce the impacts of homelessness and poverty and they work hard knowing that our community of donors believes in them. We would not be able to help them put food on the table if it was not for the kindness of our community.
If there is anything else you need, please do not hesitate to contact me.
Kind regards,
Jane Webb
Fundraising and Marketing Coordinator
The Brick www.thebrick.org.uk