The Wigan Group of Freemasons celebrated the anniversary of the birth of the NHS by gathering at its Masonic halls to unveil a special flag, designed for the occasion.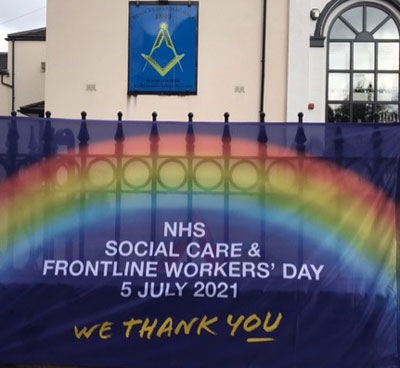 In Pemberton, the chairman reflected on the work the hall has done since the first lock down. The board of directors and members have supported 'Aspects of Care' which have throughout the pandemic provided respite care for the elderly and frail in the local community. A local baby sensory group have met during the day on Thursdays and Fridays, providing stimulation and support to new mothers and their babies and the hall has also hosted a nurse's friendship group which provides mutual support and companionship to retired nurses who are either widowed or living on their own.
Gordon Turner, Chairman of Pemberton Masonic Properties said: "I find the work we have done throughout the pandemic with the NHS to be extremely rewarding."
Jim Miller, Secretary of Hindley Masonic Hall included a picture of the flag that was erected at Hindley Masonic Hall when sending in his story, stating: "To start a national day of celebration and to recognise our National Health Service and all the essential workers that have kept our country running in the most difficult of circumstances, the NHS flag was displayed at Hindley Masonic Hall to commemorate all those who sadly succumbed to COVID-19 and a two minutes silence was observed at 11.00am."
At Bryn Masonic Hall, the directors, members, wives and family, accompanied by the steward and stewardess assembled at the hall to pay tribute to those that have worked so tirelessly throughout the pandemic to keep us all safe. The flag was raised at 10.00am, not only to celebrate the birth of the NHS but to commemorate those who lost their lives.
Ron Pearson was asked by hall chairman John Selley to unveil and raise the flag to celebrate Ron's own triumph over deadly cancer during the last 12 months. Ron said that without the help and support of his family, but importantly the staff of the various NHS departments that he was treated, the prognosis of only four months to live without treatment has been extended to over five years after the wonderful treatment that he received. Ron's condition is now classed as 'part remission' and he is looking forward to continuing his ADC duties at Willows Lodge No 5343 as soon as possible. John brought the ceremony to a close with a two minutes silence at 11.00am.
Of the day, Group Chairman Geoffrey Porter, said this: "On a day filled with emotion, Freemasonry raised the flag for the National Health Service. It is 73 years since the formation of the NHS and it was a fitting tribute to such a wonderful organisation that we could raise the flag in celebration.
The day of celebration for the NHS had begun – successfully.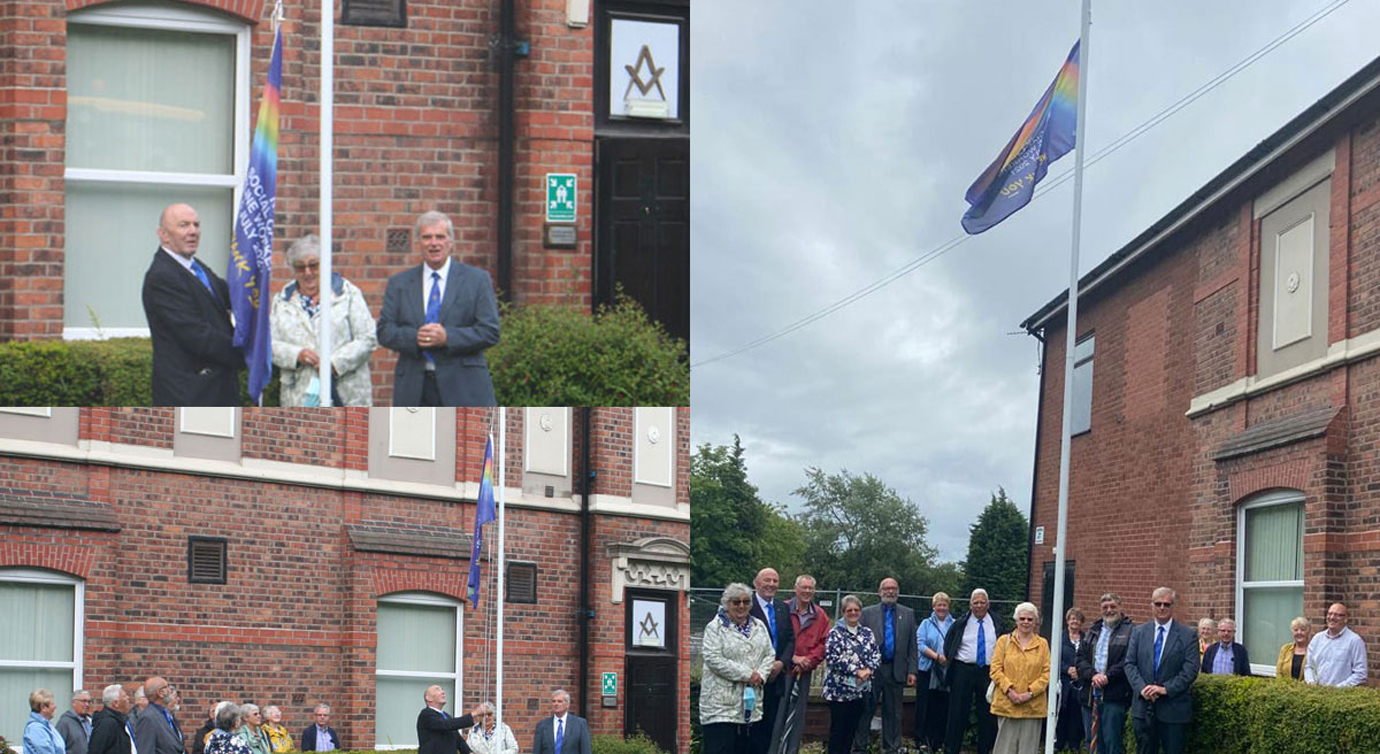 By Ian K Dawson.
Wigan Group Publicity Officer.