In 2021 Wigan Freemasons gathered on the Sunday following Remembrance Day to remember all those that have fallen in the field, particularly friends and family that have been lost during numerous confrontations since WWI.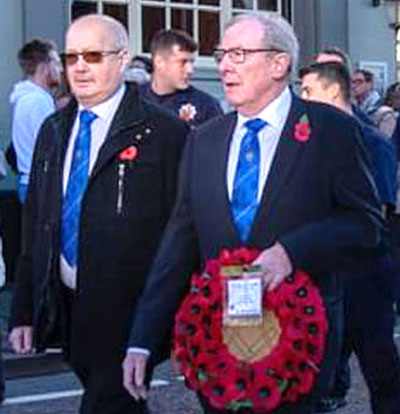 They assembled at the Town Hall in Wigan for the start of the parade with the town's emergency services, voluntary organisations, veterans and members of the public.
Everyone then paraded to Wigan Cenotaph, in Wigan Parish Church gardens, along with many others bearing wreaths to lay at the Cenotaph in commemoration of the fallen heroes.
The Wigan Group was represented in the 2021 parade by Les Rigby (the master) and Tony Simms (director of ceremonies) of Ashton Trinity Lodge No 8821 who laid a wreath on behalf of all Freemasons in the Wigan Group.
By Ian K Dawson, Wigan Group Publicity Officer.