A group of 25 'patched' members of the Masonic motorcycle group, Widows Sons, and 10 'bad pennies' (non-Masons, wives, partners and prospective members) congregated at the Sir Henry Tate pub in Chorley for the April breakfast meeting.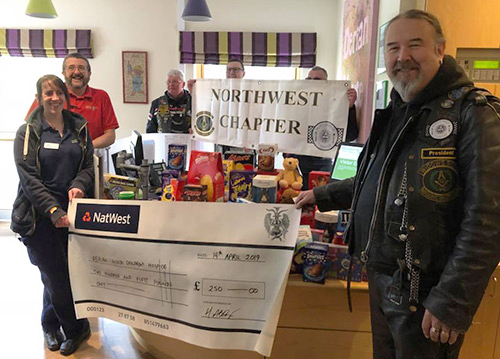 After dining well and all suitably replete and re-hydrated (tea and coffee only) they set off on the short ride to Derian House, which is the children's hospice in Chorley. They were there to deliver Easter eggs and other delights, which were very gratefully received by the hospice team.
This run had been organised by Mal Kidd, who is good friends with one of the team at Derian house. The president Andy Baxendale, vice president and secretary Iain Wilson and treasurer Bill Bruce then had the pleasure of presenting a cheque for £250 which again was gratefully received.
After the presentation, Andy welcomed two new members into the 'chapter', Ken Lee and Andy Taylor eagerly received their patches during the patching ceremony. The chapter now has 52 'patched' members with more waiting to join. A further ride then ensued, this time lead by Mark Galloway (Sat Nav), one of the road captains, who led the way down to 'Hack Green Secret Bunker' near Nantwich for a very enjoyable afternoon visit.
If any motorcycling Mason would like more information about the NWC they can contact Iain Wilson (vice president and secretary) via email: iainmw72@yahoo.co.uk
The Northwest Chapter has members from West and East Lancashire who are all keen Masons, avid bikers but more importantly great friends.