Freemasonry is not just about meetings, ceremonies and ritual, it's also about having fun. Fun not just for Masons but also for their wives, partners and friends. Most lodges hold social evenings during the year such as Olde English Nights and quiz evenings, and there are also many Masonic clubs and societies to join – clay pigeon shooting, fishing, motorcycles, antique cars, amateur radio and many more. However, the highlight of the Masonic social calendar for the Widnes Group is the annual Group Chairman's Charity Ball.
The Widnes Group comprises of seven lodges and four chapters and once a year the Widnes Group Chairman hosts a charity evening for members, wives, partners and friends. During the evening funds are raised in a variety of challenging ways to be donated to a charity chosen by the group chairman.
For 2019 the Charity Ball took place in Widnes Masonic Hall. The first port of call for most of the guests was of course the bar, which is where they linked up and socialised with friends and other lodge members. After some much-enjoyed refreshments everyone adjourned to the main hall where the seating plan ensured everyone sat with people they knew.  No sooner than the tables were occupied the group chairman Neil Pedder together with his wife Liz were escorted to their table.  Neil welcomed all those present and then the festivities began.
The dining hall was packed with over 90 people including 'a contingent' from Warrington, (as they were jovially referred to on the night). To get the evening off to a good start a game of 'Heads and Tails' was played. This entailed everyone standing with their hands either on their heads or behind their backs. A coin was tossed and those matching the throw remained standing, the rest sat down. Another round with fresh choices for everyone, and with another toss of the coin more people were eliminated. This continued until only one person remained – the lucky winner on this occasion being Paul Smythe. Paul was rewarded with a nice bottle of something rather strong to take home!
And then the meal. At this point it would be so easy to write about the multiple choice of starters, the succulent chicken in a mushroom and white wine sauce, not to mention the choice of five desserts (yes, five if you include the cheese and biscuits). Doing so could cause a reader to experience hunger pangs and as a result perhaps causing them to lose focus on the words that follow! Suffice to say that everybody ate exceptionally well and enjoyed a celebratory meal, a meal to remember.
In order to offset the calorific intake dancing was required. The musical entertainment was provided by the featured artist Michelle Lawson aka The Soul Diva, an accomplished soul singer and one of the UK's best. Her first set included well-known big ballads such as Hallelujah (Alexandra Burke), Let it be (Beatles) , You're my world (Cilla), Wherever you are (Celine Dion), Believe me (Dusty Springfield) You don't have to say you love me (Dusty), One moment in time (Whitney Houston) as well as ballads by other artist including Ed Sheeran. It was a great start to the evening and everyone were on their feet dancing from the first song until the last.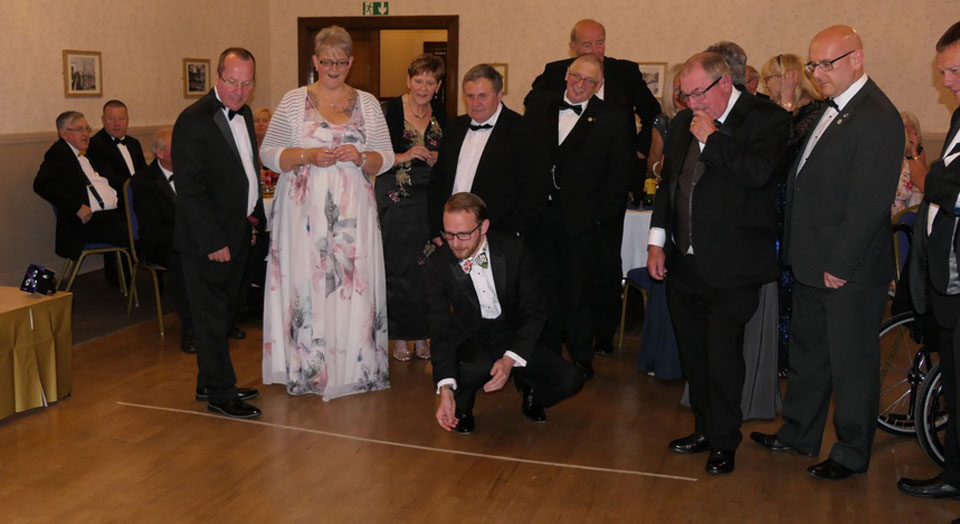 After about 45 minutes, the first set was followed by an intermission during which a raffle organised by David Redhead took place. This was followed by a game of 'Coin Tossing' where those competing had to roll a £1 coin for a distance of around 15 feet to a bucket containing a bottle of Champagne. Easier said than done. The person rolling the coin nearest to the bucket would win the champagne. The competitive spirit kicked in and soon the floor had people queuing up to roll their £1 coins and that raised a lot of money for charity.  No sooner had the prize been claimed and everybody wanted to play again, which was great because that raised even more for the group chairman's chosen charity; more on that later.
The raffle was drawn and around 30 prizes were awarded. This meant everybody had approximately a one-in-three chance of winning a prize.  There were expensive spirits and wines, some desirable perfumes, chocolates of course and other highly desirable prizes to be won. It certainly was a fast-paced raffle, which was enjoyed by all.
After the raffle there was an auction of a huge teddy bear, this thing was about four feet tall or more!  The final bidder was Jim Cartledge who subsequently donated the bear to Zoё's Place, a charity supported by Freemasons that provides palliative, respite and end of life care to babies and infants under five years old.  It was especially pleasing to note that some of the unsuccessful people bidding donated their bids for this charity even though they did not win, that was really good to see.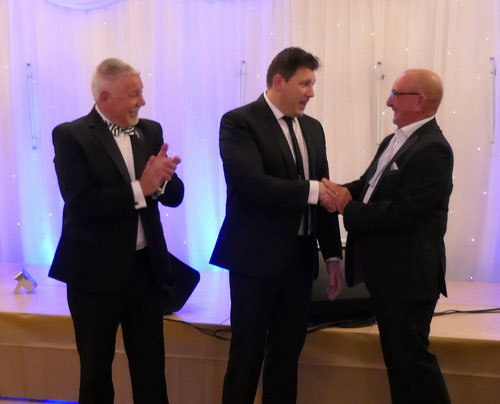 Back to Michelle Lawson.  She is known in musical circles as 'The Soul Diva' and for good reason, she is!  Her second set started with the haunting rhythm and bass that precedes Marvin Gaye's 'I heard it through the grapevine'. This was followed by Superstition (Stevie Wonder), Can't hurry love (Dianna Ross), Give me one more chance (Jackson Five), Your love is taking me higher, Shake it up babe (Mashed Potato version) and then one of the best renditions ever of Uptown Funk (think Mark Ronson, Bruno Mars, Fleur East etc). As if that were not enough Michelle continued the set with songs that included Proud Mary (Tina Turner), I'm every woman (Chaka Khan) and more.  The atmosphere was electric, it was just as you would experience at a 21st century rave or large stadium rock concert.  Live, loud, with positive vibe and attitude. Michelle eventually finished her final set but the crowd wanted more; they refused to stop clapping effectively persuading Michelle to return to the stage for one last time to finish with an encore (Stand by me); everyone was delighted.
The evening was an amazing success with £4,000 raised on the night for Neil's chosen charity, the Cathie Stankevitch Foundation. The honoured guest on the night was John Stankevitch, a former Widnes rugby player, accompanied by family and friends of the foundation.
John's mother, Cathie Stankevitch was cruelly deprived of her life when she was killed in a car accident.  In memory of her, John set up the Cathie Stankevitch Foundation which supports underprivileged young people. The charity provides inclusion opportunities for children and young people who are at risk of social isolation and who are categorised as living in poverty and deprivation in our local area.  A cheque for £4,000 – the amount raised from the Chairman's 2019 Charity Ball will be formally presented to the foundation and in that story, there will be a lot more information on the charity and those it supports.  In the meantime more information on the Cathie Stankevitch Foundation can be found on their website using the following link https://www.cathiestankevitchfoundation.co.uk/
After an evening of fine dining, superb entertainment and a variety of games everyone had a great time and went home happy. Happy in that they all enjoyed themselves all evening and also happy that Freemasonry has once again helped good causes in the communities in which it serves.