The annual 'Ladies to dine' evening for wives, partners, family and friends of Adelphi Lodge No 6819 is a highlight of the Masonic season. The event serves as a way of saying 'thankyou' to wives and partners for their support throughout the year and is also a celebration of the year of the current WM, being one of the major fund-raising events for the lodge.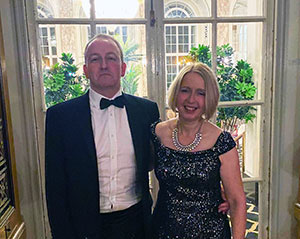 Whilst the prospect of an evening of fine food, fine wine, good company, music and dancing at the Adelphi Hotel, Liverpool would be an attraction in its own right, since the introduction by Paul Dooley at his ladies to dine celebration a number of years ago, there is only one question on everyone's lips: "Who bears wins?"
The life size cuddly bear, affectionally known as 'Brother Bear" is a very popular game of heads and tails, with participants placing their hands on their heads or 'tails' in anticipation of a coin toss, conducted this year by Stuart Allen.
Director of ceremonies Paul Dooley, assisted by Paul Shirley, refereed and even offered contestants the option to buy back in if they had made a wrong choice. The contestants were quickly whittled down with some strategic 'heads and tails' in operation, until the final three were left. As always there can only be one winner; Karen Quayle a guest of Darren Fulton carrying off 'Brother Bear', presented by Paul Shirley.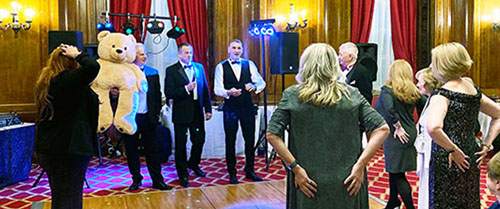 The prize giving then continued with the raffle which consists of donated prizes from brethren and guests. Each winning raffle ticket greeted with applause and congratulations from the winning tables, and groans of disappointment from the others.
This year the 'master's prize', a new introduction to the established theme, presented by Dean was unveiled – a photograph of 'the great man himself'. A few brethren wondered how the master had obtained a signed photograph of the Provincial Grand Master but it turned out to be a framed picture of Jurgen Klopp, the Liverpool FC Manager.
The winning ticket was selected and it was with some surprise that the winner was David Lindley, a life-long Evertonian who was loudly applauded and cheered as he went up to collect his prize. Eventually David realised that he had been set-up and remarked that he would look on Jurgen with pride – whilst placing it in the bottom of his bin.
The final fund-raising effort, this time to be a football signed by the entire Liverpool team which, through an auction, raised a magnificent £650. This rounded off an impressive night of fund-raising and with music and dancing until carriages arrived late a very enjoyable evening was had by all.
The only question that remains for next year is of course – "Who bears wins?"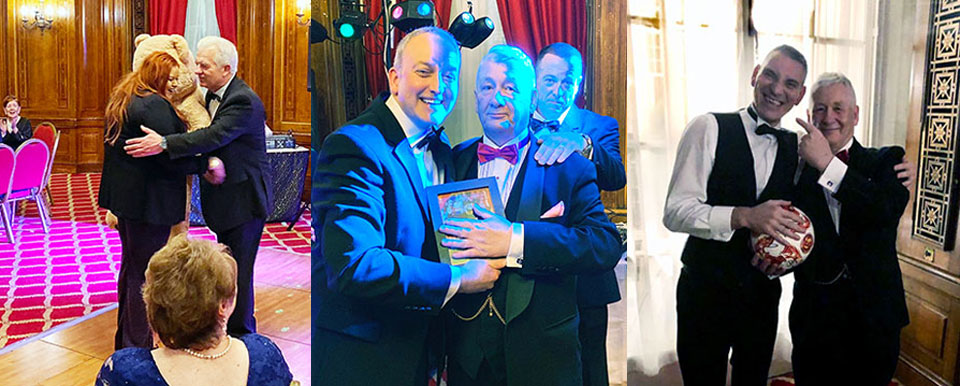 Article and photographs by Mike Fox.