The Whitechapel Centre which is located in Langsdale Street, Liverpool, is a charity originally set-up to provide day centre and washing facilities for the homeless population. Over time the charity has diversified and now provides more support to help people get back into society by providing floating support services coupled with the trailblazing aim of prevention of homelessness for vulnerable young people. It also delivers essential services – education, health services, substance misuse and mental health support.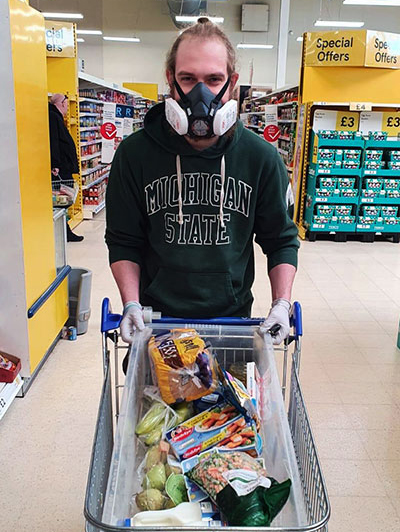 In response to the COVID-19 pandemic, the University Lodge of Liverpool No 4274 was instrumental in setting up the Masonic Assistance Team (MAT), providing much-needed help to the local community. The MAT team also became aware of an urgent need for support to the Whitechapel Centre, as explained by fundraising manager Ruth McCaughley:
"Since lockdown over 100 people, who were previously sleeping rough or staying at the Labre House night shelter, are now accommodated in hotels and apartments around the city and our staff are on site 24/7 to provide support and help people to stay safe and well. It has been a mammoth exercise and we're now focusing on providing food parcels and basic essentials, as well as finding more permanent accommodation so there is no return to the street."
As a charity this placed additional demand on those services, particularly with respect to Personal Protective Equipment (PPE). Adam Lindop provided further detail as to the equipment which was needed to be distributed all over the city:
"There was an urgent need for surgical masks, gloves, aprons, hand sanitizer and other items of PPE, which in light of the early days of the COVID-19 pandemic were urgently needed but very difficult to obtain."
The MAT team through their own personal contacts managed to obtain a supply of much needed PPE which was delivered to the Whitechapel Centre, as well as regular ongoing food parcels. Volunteer manager David Roper expressed his thanks:
"Thanks for your consistent support throughout the current situation – Adam and the donations he's been bringing us have been invaluable to our current efforts."
The MAT team are still continuing to help and support the Whitechapel Centre throughout the current pandemic and will do so until the situation normalises. Well done to all of the MAT team volunteers for their invaluable help and support.