Keen to offer help to the PPE cause, Vivian Green (wife of brother Ken Green of Perfect Ashlar Lodge No 5246) with two friends, made an offer to make scrub bags for Chorley and Wigan Hospitals. The offer was welcomed with open arms by both hospital trusts, who were crying out for scrub bags.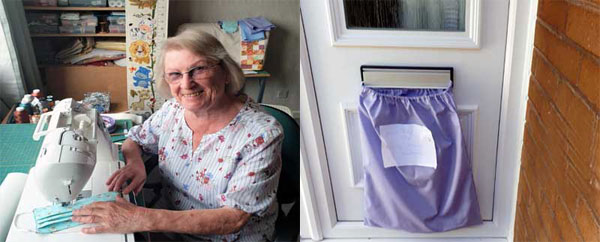 Encouraged by this response Vivian made subsequent calls to local care homes in the Leyland area to make this same offer, which was equally welcomed. So she and her friends set to and created a production line to provide this service.
The ladies were advised the best way to make scrub bags was to convert pillowcases, which they duly complied with. However, their personal supply of spare pillowcases was soon exhausted. Determined not to be thwarted, Ken produced a load of flyers asking for donations of spare pillowcases and these were then posted in neighbours letter boxes by Ken and Vivian. Their efforts proved immediately fruitful, with dozens of pillowcases left at their door.
With so many pillowcases to convert, the ladies enlisted the help of some sewing friends to strengthen the team. Within a week 100 scrub bags had been delivered to Chorley Hospital, followed by a further supply of 100 bags to Wigan Hospital.
Vivian is also making face masks and to date four care homes in Leyland have benefited from the very attractive face masks. Vivian is keen to keep a store of spare bags in stock and has a bag on her front door for further donations of pillow cases.