The Chorley and Leyland Group Charity Steward Garry Hacking was asked to attend a meeting of the Westhoughton Lodge of Amity No 7782 to collect a cheque given on behalf of the lodge in order for it to be given to the Ukraine Appeal. This isn't done very often and Garry was curious as to why he had been summoned.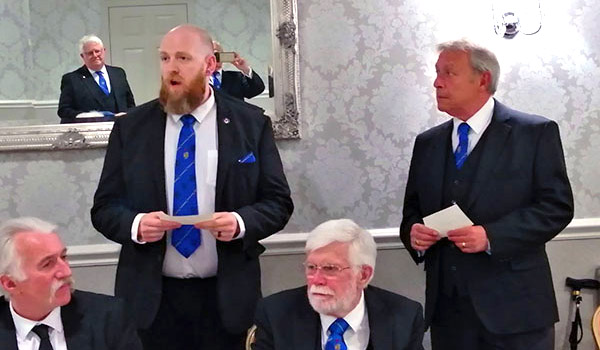 The evening started with a regular lodge meeting, the raising of Nicholas Bell who was raised in fine form by the WM Graham Walsh. Following the ceremony, the brethren descended the winding stairs of Brookfield Masonic Hall to a wonderful meal provided by the catering staff there. Nothing unusual yet!
It was following the soup course that the mystery began to be explained and things began to become clearer. Graham requested that Arthur Price take the floor, which he duly did and proceeded to explain that he had arranged a social event at Brookfield Hall with a view to having a good time and to raise funds for the Masonic Charitable Foundation Ukraine Appeal and for Fortalice, a local charity that cares for victims of domestic abuse. The event had featured the Harper Brothers, the children of the late great Bobby Ball, and the lodge's very own singing superstar Matt Philips. It raised a lot of money.
Arthur Price then presented the cheque which, when Garry looked at it, it took him aback and with a few blinks to check his eye sight, he realised that the lodge was donating £2,260 to the MCF Ukraine Appeal.
Once Garry had recovered his composure from the shock, he told everyone that he had kept up to date with the Ukraine 2022 JustGiving page and many admirable brethren had been raising money for this appeal but he had seen no donation of this size and had heard of nobody donating such a large sum. To add to the surprise, as well as this huge donation, Arthur also had another cheque for £500 to be given to Fortalice.
The brethren of Westhoughton Lodge of Amity have truly raised a fantastically large amount and shown that they go to great lengths to spread their benevolence so brilliantly across the community.