Over 600 brethren with their wives and partners attended the Celebration Finale Banquet for the West Lancashire Masonic Charitable Foundation 2021 Festival held in the Winter Gardens in Blackpool.

The principal guest was Assistant Grand Master Sir David Hugh Wootton, David was accompanied by the President of the Masonic Charitable Foundation (MCF) Richard Hone and his wife Diana, the MCF Chief Executive Les Hutchinson and his wife Debbie, Chief Fundraiser for the MCF Paul Crockett and his wife Claire and Trustee of the MCF Howard Wilson and his wife Lynn.

The evening started as guests arrived in the Spanish Suite of the Winter Gardens for drinks. During this period a presentation was shown on to cinema screens showing highlights of the West Lancs MCF 2021 Festival, click here to download the presentation.
They then took their places for the dinner which was served at 6:30pm. The starter was Lancashire cheese and caramelised onion tart with beetroot gel and watercress salad, the main course was roast sirloin beef, served with Yorkshire pudding, roast potatoes and seasonal vegetables. During the first course and main courses the ladies and brethren were serenaded by the Greenalls Brass Band who played a range of music; show-stoppers, Broadway hits, television and film themes, big band sounds, jazz, contemporary pop and many other pieces featuring their talented soloists.

Just before the dessert of salted caramel profiteroles was served, the evening was disrupted by a waiter who dropped some plates! The ballroom went silent as the guests started to realise that the sound of plates breaking and a waiter falling over was a surprise as the Fantastic Singing Waiters burst into an amazing selection of popular opera and popular songs from the 60's, 70's and 80's which got everyone on their feet singing, dancing and waving flags.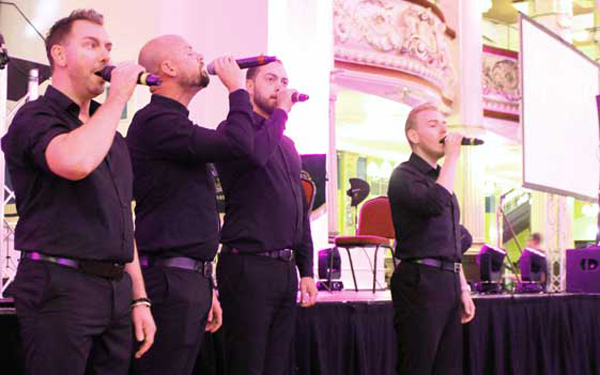 After a short break, there followed the loyal toast proposed by the Festival President Tony Harrison ProvGM. The toast to the Grand Master was also proposed by Tony.
The principal guests assembled on the stage and the toast to the Masonic Charitable Foundation was proposed by the Festival Chairman Philip Preston. In his toast Philip thanked everyone involved in the festival including the 2021 Festival Committee, regional, group lodge and chapter charity officers and festival representatives.
Following this the announcement of the results given by Les Hutchinson, who highlighted the groups, lodges and chapters who have given the largest donations and he thanked everyone in the Province who had played a part however large or small in raising the wonderful total of £3,504,423.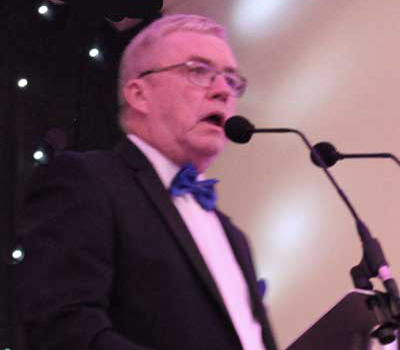 Richard Hone responded to the toast to the MCF. Richard again thanked everyone involved in the 2021 Festival. He concluded by thanking Tony in his role of Festival President and presented him with a crystal decanter.
The toast to the Festival President was proposed by Sir David who thanked Tony for his leadership of the 2021 Festival. He said Tony was clearly a popular leader as was evident by the number of ladies and brethren in the wonderful Winter Gardens Ballroom. The Festival Results Brochure and gift of an engraved wine glass were then distributed to all the guests.
In his response to the toast, Tony said: "I am delighted to welcome you all here this evening and I am sure it has been a memorable and enjoyable one for you all. Having launched the festival just four short years ago, this evening marks the culmination of the Masonic Charitable Foundation 2021 Festival, and once again you, the brethren and companions of this Province, have shown your outstanding generosity in providing what, I truly believe, is a staggering amount we can all be proud of.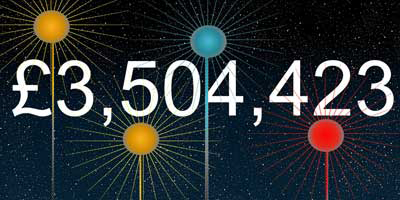 It has been a great honour for me personally to be the President of the Festival and also for West Lancashire, being the first Province asked to provide a Festival in aid of the Masonic Charitable Foundation after its launch five years ago.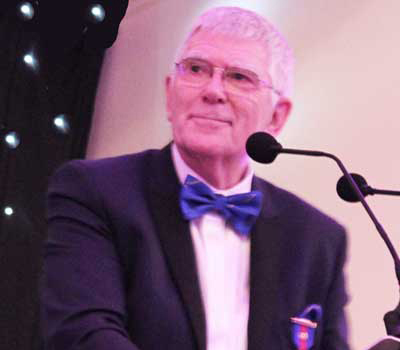 At the very beginning, I appointed David Winder as Vice President of the Festival and Philip Preston as the Festival Chairman. Together with the Festival Committee, the regional, group, lodge and chapter charity stewards who took on an extremely difficult task which was made even harder by the onset of the COVID-19 pandemic in the first few months of 2020. Throughout, the unwavering effort of the brethren of this Province has been quite staggering. Not only have you supported the festival, you have devoted time, effort and energy in supporting the countless demands of our communities and the less fortunate.
What greater testimony can there be to highlight all what is good about what we are, what we do and what Freemasonry contributes to the good of our country and the wider world outside. Thank you all for your astounding patronage, stay safe, keep well, and please continue to enjoy your Freemasonry."

Following the speeches, the Fantastic Singing Waiters, sang a range of songs, which once again had everyone joining in.
The evening ended with a rendition of 'Land of Hope and Glory' by the Greenalls Brass Band, which again got everyone singing and waving their Union Jack flags. A fantastic end to the first Provincial Festival held for the Masonic Charitable Foundation.
Sir David Hugh Wootton, Assistant Grand Master. Sir David was born in 1950 and was educated at Bradford Grammar School and Jesus College, Cambridge. He became a partner in an international law firm in 1979 specialising in corporate transactions and best-practice compliance with law and regulation in corporate governance. Having a strong interest in the governance of the City of London, he was elected to Common Council in 2002 as Member for the Ward of Farringdon Within and was subsequently elected as Alderman for the Ward of Langbourn in 2005. Sir David served as Lord Mayor of London for 2011-12. He served as Metropolitan Senior Grand Warden in 2007 and was promoted to Past Grand Sword Bearer in 2012, before his appointment as Assistant Grand Master on 12 March 2014.
Richard Hone, President Masonic Charitable Foundation. Prior to his appointment as President of the MCF in 2016, Richard served as President of The Freemasons' Grand Charity. He was initiated into Freemasonry in Apollo University Lodge No 357 in 1968 and Richard first joined the Council of the Grand Charity in 1997. During this time, he served as Chairman of the Finance Committee and was instrumental in bringing about a major revision of the charity's constitution. Richard previously worked as a Senior Circuit Judge at the Central Criminal Court at the Old Bailey in London.
Les Hutchinson, Chief Executive of the Masonic Charitable Foundation. Les was appointed to the role of Chief Executive in 2020, having formerly served as the MCF's Chief Operating Officer and as the Chief Executive of the Royal Masonic Trust for Girls and Boys (RMTGB).  Les brings with him a wealth of knowledge of Masonic charity having joined the RMTGB in 1988. During this time, Les has held the positions of Management Trainee, Senior Case Administrator, Planning and Development Coordinator and Secretary to the Council. He has been a Freemason for over 30 years and also serves as a Trustee of several smaller charities.
The members of the Charity Team.
 2021 Festival Committee:
David J Winder PSGD, Vice President
Philip J Preston PAGDC, Chairman
Geoffrey W Saul PAGDC, Secretary
John A Wrennall PAGDC, Assistant Secretary
David Randerson PSGD, Design and Procurement of Marketing Materials
Christopher C Butterfield, PAGDC Royal Arch Cabinet Representative
Charles P Lockett PSGD, Group Chairmen Representative
Mark L Holloway PPSGW, Communications Officer
2021 Festival Final Event Committee:
J David Ogden PSGD, Chairman
Malcolm R Alexander PAGDC, Secretary/Treasurer
John A Wrennall PAGDC, Assistant Secretary/Treasurer
David J Winder PSGD, Festival Vice President
Philip J Preston PAGDC, Festival Chairman/Provincial Grand Charity Steward
2021 Festival Regional Charity Stewards:
Furness and South Lakes Lancaster Preston, Geoffrey M Bury PPJGW
North and South Fylde and Blackpool, Edward M Rhodes PAGDC
Wigan, Leigh, Chorley, St Helens and Prescot, Malcolm Warren PPJGW
Leyland, Southport, Ormskirk and Bootle, John A Wrennall PAGDC
Eccles, South Eastern, Warrington, Denis G Tierney PPGSuptWks
Gladstone, Garston, Widnes, Paul J Shirley PPJGW
Liverpool and Woolton, George T Crawley PPJGW
 2021 Festival Group Charity Stewards:
Furness and South Lakeland, Richard G Wilcock PProvGSuptWks
Lancaster and District, Simon J Hanson PPGSuptWks
Preston, Victor S Parker PPGSuptWks
North Fylde, James W Gregson PProvGSwdB
South Fylde, David McKee PPGSuptWks
Blackpool, Ian S Stirling PPGSuptWks
Wigan, Ian S D Green PProvGStwd
Leigh, Steven A Ralph PPDeptGSuptWks
Chorley, Allan M Shields PProvGStwd
St Helens and Prescot, Leslie R Newman PPDeptGSuptWks
Leyland, Jeffrey A Lucas PPJGW
Southport, Martin M Lockyer PAGDC
Ormskirk and Bootle, Malcolm K Sandywell PProvAGDC
Eccles, William Walker PPGSwdB
South Eastern, Darren L Gregory PProvGStwd
Warrington, Glen F Screeton ProvGStwd
Gladstone, Sean C Keyes PProvGStwd
Woolton, and Garston Gary R Devlin PPGSwdB
Widnes, Robert L Williams PProvDepGSuptWks
Liverpool, Barry G Fletcher PProvAGDC
Liverpool, Geoffrey G Brown PPGSuptWks
 The number of lodge and chapter charity and festival representatives are too many to list, but they all played a vital role in raising the magnificent total of £3,504,423.