Meetings of Provincial Grand Lodge and Provincial Grand Chapter are always grandiose occasions, but when the purpose is to install a new Provincial Grand Master and Grand Superintendent, it makes them something really special. Add to that the presence of Johnathan Spence, Pro Grand Master and Pro First Grand Principal, and his team from the United Grand Lodge of England, then the pageantry is complete. Mark Matthews is the new leader and 100s of Freemasons from across the Province and further afield had turned up to witness his installation, and they weren't disappointed.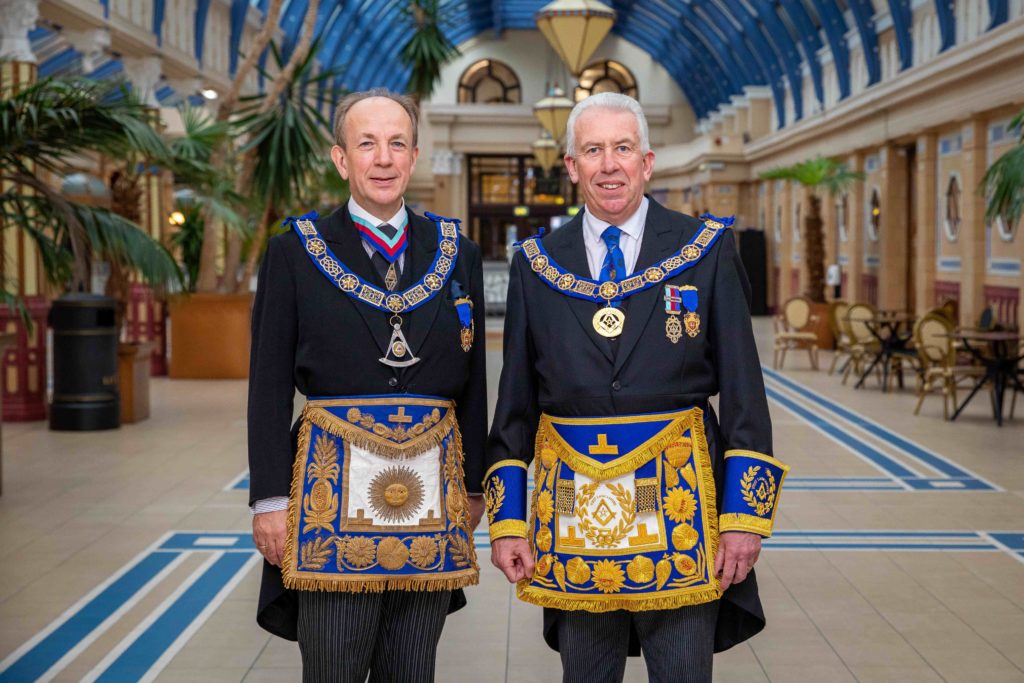 The day started early. There was a lot of preparation with practice and rehearsals under the watchful eye of the Grand Director of Ceremonies Charles Hopkinson-Woolley. The Provincial team was drilled into shape by local Provincial Directors of Ceremonies Malcolm Bell and David Thomas. The ceremony was in two parts. First was the Royal Arch installation, as usual a colourful and vibrant spectacle. Once installed, Mark was delighted to re-appoint Chris Butterfield as Deputy Grand Superintendent and Michael Threlfall and Gordon Hirst as co-principals. The current assistants were then re obligated. Once the business was concluded, Mark addressed the ensemble.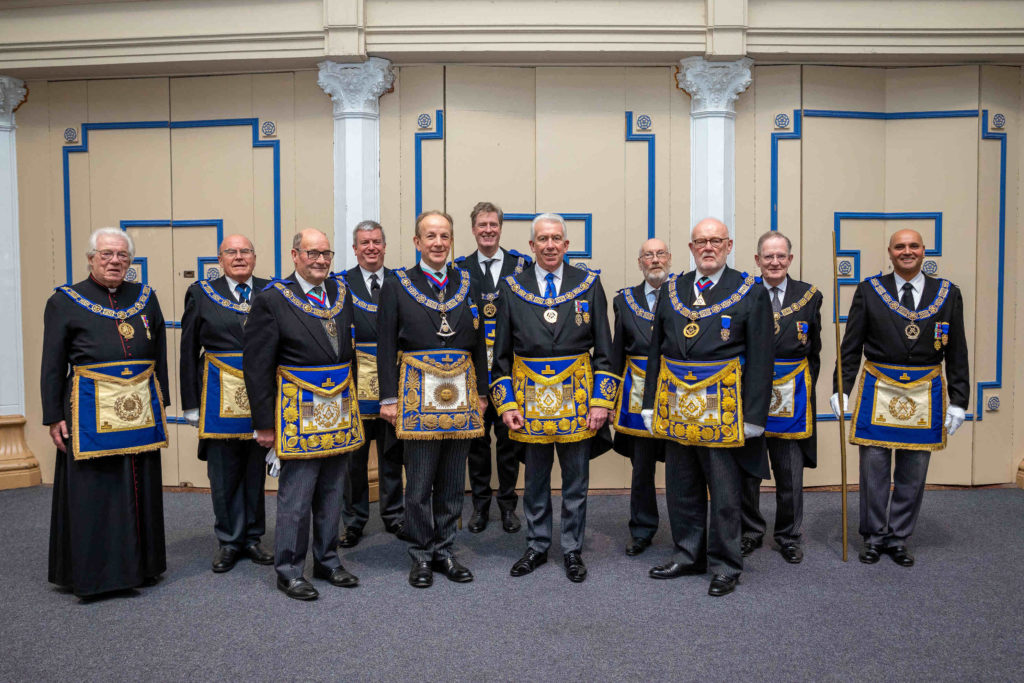 Mark's address began by thanking Jonathan Spence and all his team, for bringing so much to this splendid occasion. It was, he said, a day that he would personally treasure for many years to come. There are many challenges that lie ahead, one of which is to deliver the United Grand Lodge of England Freemasonry Strategic Roadmap. Whilst Mark believes the Province is well placed to deliver this, he sees no room for complacency. A key feature is the indissoluble link between Craft and Royal Arch Freemasonry and having recently changed governance of the Province to now have one complete cabinet made up of all of the senior Royal Arch and Craft Officers of the Province, essentially becoming the 'strategic think tank', which he believes will drive it forward.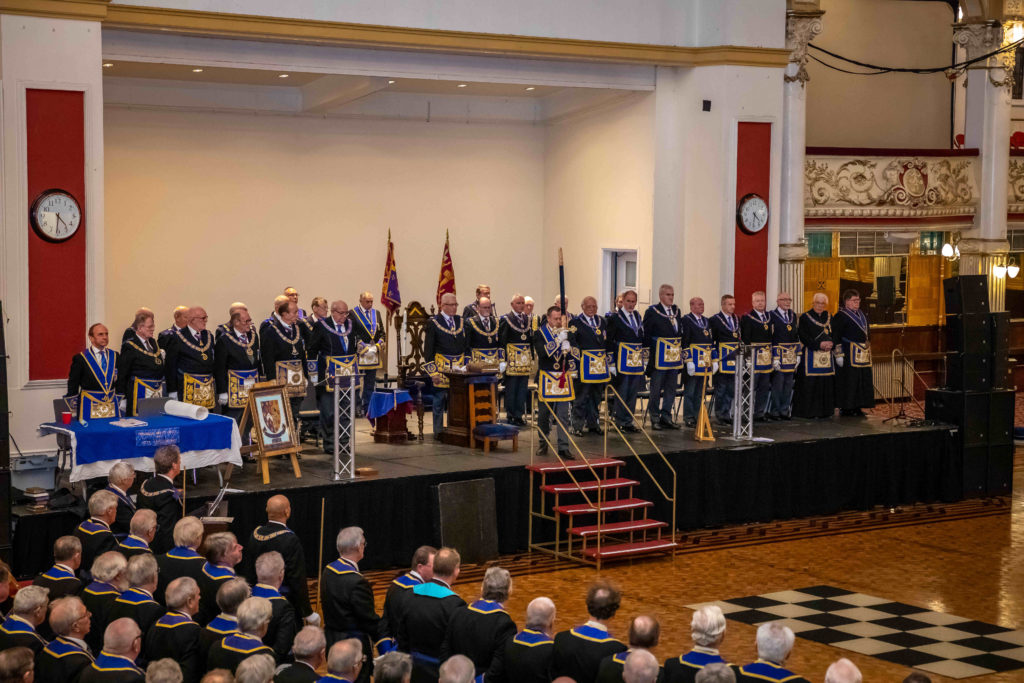 Membership of Craft and Royal Arch is also a major challenge, and key points of focus and scrutiny for himself. Membership officers are all working hard, and many men have shown an interest in our fantastic organisation as potential candidates during the course of the current 2022 National Digital Marketing Campaign. In terms of RA membership, Mark has asked the Royal Arch assistants to arrange white table events, at which non-Royal Arch Masons can be invited to attend the festive board, following a ceremony.
Mark further explained that in these difficult and challenging times the care team and the West Lancashire Freemasons' Charity are working hard to ensure that anyone who might need help, particularly with the price of fuel, gas, electric and general living costs, are not allowed to suffer in silence. He further explained that the Hermes web application would soon be going live. This electronic process will eliminate the need for most paper-based forms. Mark was confident that the membership will all continue to innovate, apply and achieve in everything that they do for the Province, but stressed that above all, everyone should continue to enjoy Freemasonry.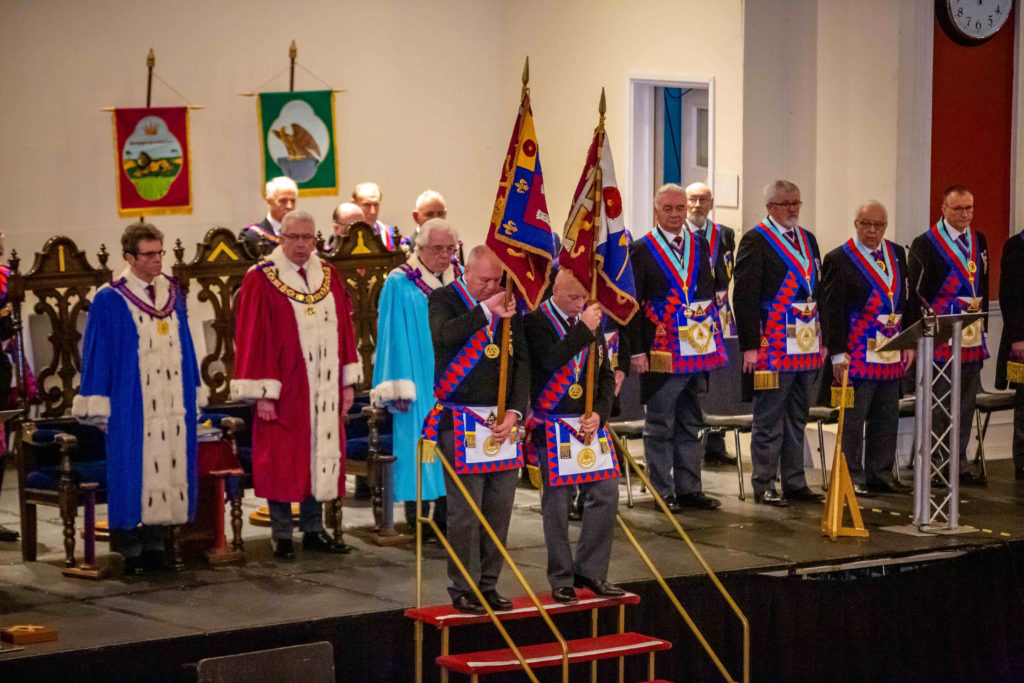 The chapter was closed, and the parade out was done with the usual military precision and pomp befitting of this grand occasion. The participants mingled and chatted, and perhaps had a glass or two, before enjoying a festive luncheon together. As the dinner came to an end, Johnathan Spence was delighted to propose a toast to Mark's health and to wish him well in his new role. Before he did however, he had the pleasant duty of presenting Mark with a gold medallion, personal to him, bearing the coat of arms of the Grand Lodge and signed by the Grand Master. Mark responded, thanked everyone involved, and said he was delighted, honoured and proud to be able to lead this fine Province in the coming years ahead.
Next it was the installation of Mark as Provincial Grand Master. It commenced with Philip Gunning, Deputy Provincial Grand Master in Charge, and Provincial Grand Officers, processing in and opening the Provincial Grand Lodge. They then received the Pro Grand Master and his team, and Johnathan Spence took over and appointed his wardens and chaplain. Following the reading of the patent of appointment, a procession was formed, and Mark was obligated and installed as Provincial Grand Master and declared as such by the Grand Director of Ceremonies. Philip Gunning was re-appointed as Deputy Provincial Grand Master and the eight Assistant Provincial Grand Masters re-affirmed their obligations.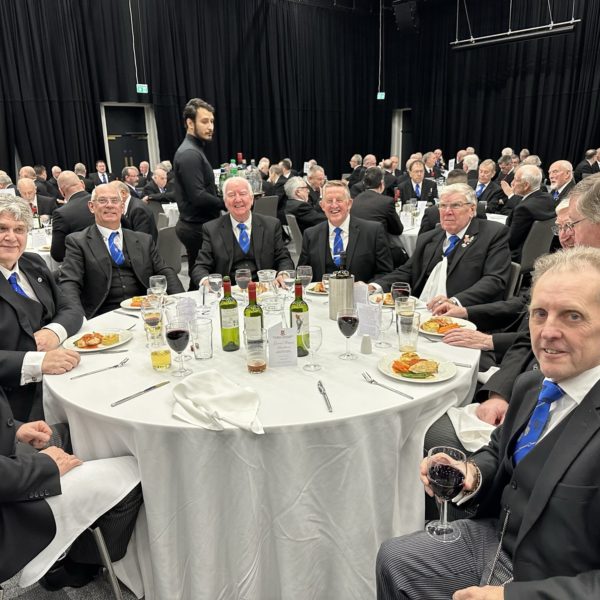 As many of the brethren were in attendance at the Royal Arch investiture earlier, Mark decided not to repeat the address he gave at that time but did thank the Pro Grand Master and his team, as well as all those from the Province who had been involved. He also expressed his delight in re-appointing his deputy and assistants. Finally, he gave a big thank you to all for their attendance and good company. It only remained for him to close Provincial Grand Lodge followed by an impressive procession to the wonderful music provided by the Provincial Grand Organist
There followed a delightful wine and canapes reception before everyone left with the memories of an epic pageant to reflect on. Mark was born and raised on the Wirral and now lives in Sefton. He is married to Debbie and has two sons and two grandchildren. His hobbies apart from Freemasonry include running, going to the gym and boat fishing. In his early working life Mark worked in the chemical plant industry. This role included production, quality assurance and laboratory technician work. Mark then moved on to a 30-year career in the police service, where he achieved the rank of Chief Superintendent, having also been deployed on attachments to the New York City and Hungarian Police. His next employment was with the Home Office and Association of Chief Police Officers. He was appointed as the National Coordinator for Operations, Policy and Training, relating to Organised Crime Groups producing cannabis on a commercial scale. Mark holds a National Certificate in Management and a Master of Science Degree in Drug Use and Addictions. He is currently enjoying retirement.
In terms of Freemasonry, Mark is a member of numerous lodges, chapters and other Masonic Orders. For eight years he was the Chairman and Director of the West Lancashire Freemasons' Charity. He also served for four years as a Provincial Member on the Masonic Charitable Foundation. He is a former Director of the Southport Group, Chairman of the Liverpool Group and Senior Grand Warden of the Province. Prior to his appointment as Provincial Grand Master and Grand Superintendent, Mark was the Assistant Provincial Grand Master for the Gladstone and Liverpool Groups.