Only four days after their rescheduled installation meeting, members of Carnarvon Lodge No 2376 delivered an initiation ceremony with a lot of fine ritual, some delegation and one very funny moment that will be remembered for a long time.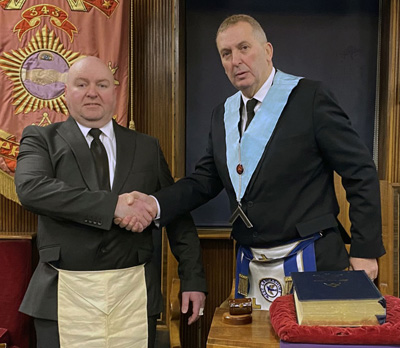 It was originally proposed not to have a ceremony in January with the installation being so close but, with a new candidate waiting to join the lodge, the members stepped up to welcome Mr Ian Stuart McGrath. As it turned out, Carnarvon Lodge had held a light blue mock initiation ceremony in October with its newest and youngest members taking over offices while being directed by the WM. So, each brother took the same role so that the initiation could go ahead without delay.
With a new master being installed just four days prior, the power of delegation was presented and Jeff Lucas was honoured to take the chair as master for the purpose of the initiation ceremony. As expected by everyone in the lodge, Jeff delivered some superb ritual and Stuart was initiated into Carnarvon Lodge in a great manner.
A celebration of ritual was continued by the acting Carnarvon Lodge members, with special mention to Michael Kipping who directed the candidate around perfectly, delivering more great ritual as interaction was had with both senior and junior wardens.
The first degree working tools were presented by C Pickup, followed by the charge after initiation which was given by Kieran Taylor-Bradshaw. Both new Masons showed proficiency in the words spoken and it was great to see the lodge embracing and encouraging its new members to get involved.
Alas, in mentioning a very funny moment in the lodge, which had everyone in cries of laughter, these chronicles are not the place to share what happened. That should be left to Jeff Lucas to decide if he wants to share the story. He enjoys creating suspense!
The festive board was just as warm and welcoming as the ceremony, with plenty of conversations and laugher being shared. Stuart McGrath, as the candidate, responded to the toast to his health by saying that he was grateful for all the work each member had put into the ceremony and for the friendly welcome he had received from everyone.
Kevin Byrne, who also joined Carnarvon Lodge on the night was also welcomed into the lodge by the WM and his members. A great evening was ended and a reminder of the weekly practice / get together was given, of which every Carnarvon Lodge member is freely invited to.