The Warrington Group Executives decided to hold a raffle to be drawn in the summer recess with a theme for the raffle to be 'Sporting Memorabilia' with the aim of generating monies for charity.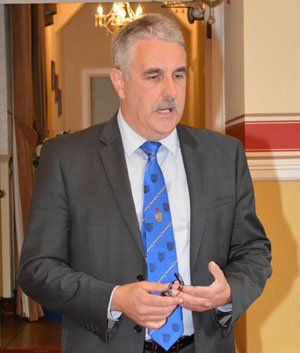 Tickets were offered to friends, brethren and companions before the start of the summer recess and partakers could elect which item or items, they wished to purchase tickets for, with six items being offered which were: a Liverpool shirt, Liverpool ball, Manchester United ball, Manchester City poster, second Manchester City poster and an Everton ball. All items were signed by relevant team members.
The meeting was opened by Warrington Group Chairman Andy Barton, he welcomed everyone and then he invited Mrs Susan Poynton to make the draw.
The draw was made by Susan, in the presence of her husband Assistant Provincial Grand Master Kevin Poynton, Andy Barton, John Tyrer vice chairman, Chris Gleave past vice chairman, John McIntyre group secretary, Jim Cartlidge group treasurer, Glen Screeton the group charity steward and several non-Masonic independent witnesses.
The results of the raffle were: Liverpool shirt went to William Hendry, Liverpool ball went to Rebecca De-Lappe, Manchester United ball went to Bob Stafford, Manchester City poster went to Sam Hardie, Manchester City poster (2) went to Glen Screeton and finally the Everton ball went to Stephen Clarke. Only one of the lucky winners was present, however he was delighted to have won the Manchester City poster.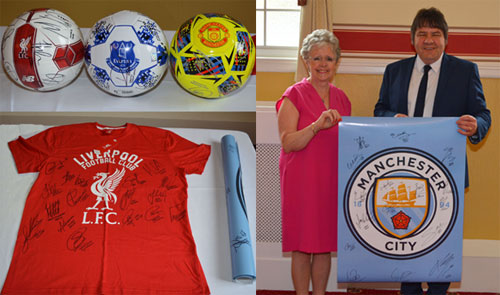 Andy announced that the raffle had generated a magnificent sum of £780 which he said the group would top up to £800, which would be divided equally between the Walton Trauma Centre £400 and the 2021 Festival in support of the Masonic Charitable Foundation (MCF) £400.
Andy continued by thanking James Corcoran BEM of the Garston Group for providing the prizes, members and friends for their support in selling and purchasing the tickets, to all helpers and for everyone for their support on the day. Finally, he hoped the winners would enjoy their prizes.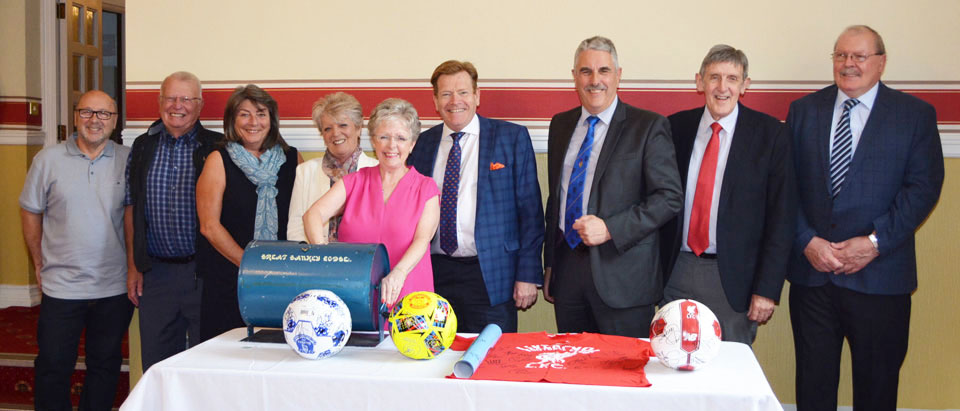 Story and pictures by John Starkey.