Back in February 2021, the Warrington Group received an email requesting help in passing Anthony Gleave from the University Lodge of Liverpool No 4274. Anthony lives in Warrington, works in Preston and attends the University Lodge of Liverpool. Due to work commitments, he was unable to attend his lodge regular meeting which is at 5pm on a Monday.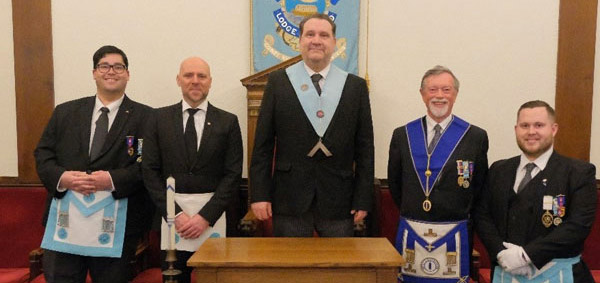 Travellers Lodge No 4679 jumped at the opportunity to help! Travellers Lodge meet at 6:30pm on Thursdays, which was ideal for Anthony. With a little bit of communication between the lodge secretaries, Alan Moore, University Lodge of Liverpool and Brian Potter, Travellers Lodge – they made it happen.
The passing was attended by three friends from Anthony's lodge. The ceremony was conducted by Darren Brown with Peter Hayes giving the charge after passing and Davor Parker giving an excellent rendition of the second degree working tools. The evening was made special with Brian Wilson playing the organ.
A most enjoyable evening was rounded off with a fine meal at the social board and a raffle done the Travellers Lodge way, sorry not going to elaborate further, you'll have to pay a visit.
Overall, it was a fantastic night which brought two lodges together. The University Lodge Of Liverpool has just celebrated its centenary and with Travellers Lodge centenary in two years I can see this is the start of a long-lasting friendship.
From everyone at Travellers Lodge we wish Anthony Gleave all the best with his Masonic journey.