Having had one local emergency appeal for the Warrington Foodbank in October 2021 to top up dwindling stock, the Warrington Group received notice of another Provincial Foodbank Appeal for Christmas! Having pulled out all the stops for that pre-Christmas call to arms, organisers Glen Screeton and Neil Thomas had a few doubts about this second and new appeal.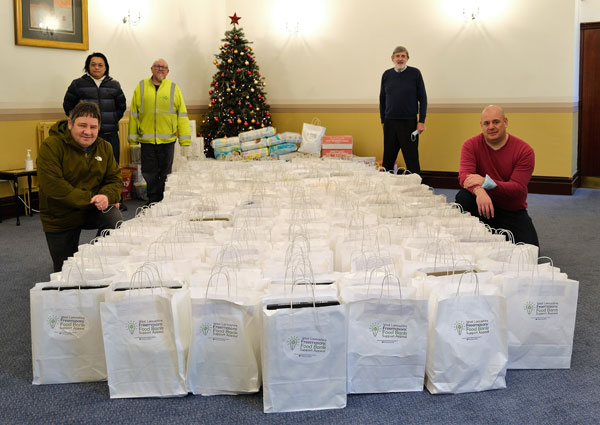 How could they expect the group to once again give of their time and resources, not to mention finances, to come to the aid again. They truly believed that there wouldn't be much of a take up for this latest venture, and thought they would have very little coming in. That being said, they decided to give it a go, and by now being quite well practiced at the logistic side of things, they continued along a well-worn path to plan and arrange as they had done on previous occasions.
It was decided to man the four drop off points previously used over four weekends. There was no shortage of volunteers from the group, even though expectations were low, and despite some terrible weather they braved all the elements for what at first appeared to be the expected smaller collections. Little did they know what was on the horizon and what lay ahead.
Bags and bags of food started to arrive at the pick-up points. Members who couldn't get to any of the four drop off points were quietly bringing food and goods directly to the Masonic Hall. If that wasn't enough, many of those who didn't bring bags of food instead made cash donations. This cash was used by Neil and his wife Gill who were able to go on a shopping expedition, a 'big shop' for more bags of food.  At the same time the committee of the Lodge of Charity No 2651 were collecting donations and preparing their own purchase.
Then, with a charitable donation of £700 they descended on Morrisons supermarket and after discount for buying in bulk, managed to accrue goods to the value of £800. This was an incredible amount of money and a huge boost to the appeal and foodbank stocks, all done in the true spirit of Freemasonry. Charity Lodge was not alone in its application of kind donations. Special mention must also be made of Academy Lodge No 9382 who not only donated £500 to the appeal but invited and very generously hosted four of the hardworking staff of the Warrington Foodbank at their Candlelight Supper social event. Needless to say, they were very impressed by the 'wine and dine experience' and thoroughly enjoyed themselves taking a break from their demanding roles.
It is difficult to quantify the number of food items that were delivered to the foodbank, but there were many, many bags. It was a great team effort, and involved generous individual contributions, as well as those from the smaller lodges, chapters and other Masonic Orders within the group. To give some context to the amount of food donated, the bags were weighed prior to delivery. The donation from Lodge of Charity weighed in at a whopping 367 kilograms, whilst the group itself added a huge 733 kilograms. To those who are good at sums, you will have worked out that what was expected to be a light response resulted in a donation of 1.1 tonnes. What a remarkable sum for the local foodbank and the people of Warrington. Well done the Warrington Group and Warrington Freemasons.