Royal Arch, what's it all about? Well, for members of the Warrington Group, here was the chance to find out. Members of Travellers Chapter No 4679 along with the Warrington Group executive decided it was a great opportunity whilst they had a very special guest of honour.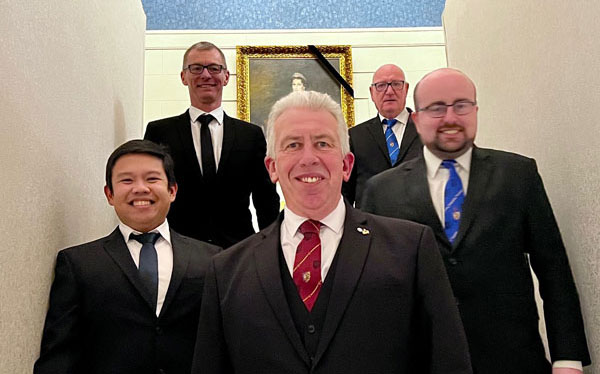 The Grand Superintendent Mark Matthews was not only a special guest at the exaltation of Neil Thomas, Mark was to be the speaker at the social board to deliver a talk to all brethren who are not yet Royal Arch Freemasons. Mark was accompanied by Assistant to the Provincial Grand Principals Colin Rowling and other distinguished guests.
The social board was open to all members of the Craft who wanted to learn more about taking the next step into Royal Arch Freemasonry. Brethren of Ashmole Lodge No 5128, who also had their regular meeting on the same night joined Travellers Chapter for a combined social board.
Out of the 80 brethren dining at the social board, 25 were fellow craft and master Masons who went along for this special event. Mark Matthews gave a presentation on taking the next step and an interesting explanation on why he joined, which was very well received. A raffle conducted by Neil Thomas and John Moore at the social board raised a staggering £345 for Woody's Lodge, an armed forces veterans' charity, who they are both supporting this year.
In an open letter to all brethren and companions following the event, Warrington Group Secretary John McIntyre wrote: "Companions and brethren on behalf of the Warrington Group Executive, I am writing to thank all those who made this evening the success it became. I say became, as we had no idea at first what was expected, required and how success would even be measured.
The first thanks go to Travellers Chapter who were the chapter in the group who hosted the evening and they really did host it. Thank you, Alan Pattinson, for the excellent planning of a social board, not having a clue how many were going to attend. Thank you to John Tyrer, Paul Rigby and Chris Eyres and all the members of the chapter who put on a spectacular exaltation ceremony, not forgetting Neil Thomas, who became companion Neil Thomas and the newest companion in the Group. Welcome Neil.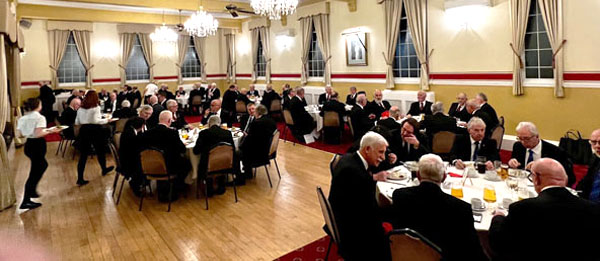 Thank you to Ashmole Lodge who suggested they join the chapter social board, holding a shortened lodge meeting themselves and not only boosting numbers, but bringing non-chapter Masons with them and a special thanks to those other master Masons from other lodges who also attended and for keeping me company in the bar. All this coalesced on the night, and as I said, became a great success, upstairs and down and much appreciated by the Grand Superintendent Mark Matthews and our Assistant to the Provincial Grand Principals Colin Rowling. Hopefully the evening will realise it's aim and attract more brethren of the Warrington Group to join Royal Arch, complete their Masonic journey and become companions in the future. Thank you to everyone, for your contribution to this most successful and enjoyable event."
Any brother, whether you were present on the night or not, wishing to explore the idea of joining a chapter, should speak to their lodge Royal Arch contact, (see your summons or lodge page in the Yearbook) or any member of the lodge you know to be in a chapter.
Information about the Royal Arch and a Royal Arch enquiry form can be found on the Provincial website by