During the current COVID-19 crisis, Glen Screeton, Warrington Group's Charity Steward, is classed as a key worker undertaking IT project delivery into the NHS and Healthcare sectors.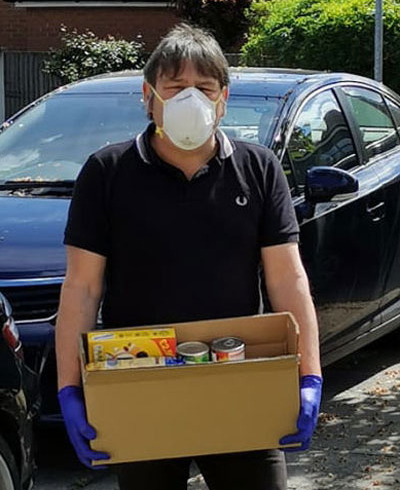 Glen said that he is now busier than ever of course, but the first thing he noticed was quieter roads which enabled him to zip around the region much quicker than usual.
Having spotted an article in the local newspaper mentioning that the Warrington Foodbank was running low on stock, Glen along with his wife Clare, thought the idea of collecting a few spare tins or dried goods from Warrington brethren whilst out and about and delivering them to the Warrington Foodbank may prove worthwhile.
Little did he realise that in the first week 62 full bags of shopping would be collected and delivered with the help of Neil Thomas, who also managed to collect food from both his Masonic and non-Masonic friends!
Collections have continued into a third week and Glen commented: "The response from the brethren and other non-Masonic friends has been outstanding and the foodbank are extremely grateful".  Even during a crisis Freemasons can help out and work with the local community.
An article about Clare's, Glen's and Neil's efforts has been published in the Warrington Guardian. To read the article click here.
Clare said: "In these difficult times we want to help out with the community – even though I am shielded it doesn't mean that I am shielding. I am doing what I can with my husband's support. We are organising the collection of donations from Warrington Freemasons to take to the foodbank."

Story and pictures by Glen and Clare Screeton.